Philippine pilgrims honour Black Nazarene statue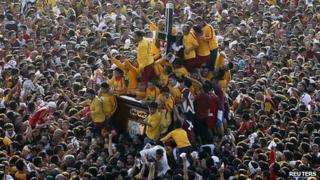 Hundreds of thousands of Catholics have taken to the streets of the Philippine capital Manila to honour a statue known as the Black Nazarene.
Pilgrims clambered over one another to touch the wooden statue during its slow procession through the city.
Many believe the life-sized statue of Jesus Christ holds mystical powers that can wash away sins or cure illnesses.
Organisers say the procession is partly to pray for victims of the typhoon that hit the central Philippines last year.
More than 80% of the Philippines' 100 million population are Roman Catholic.
"This has been a family tradition for years, and the Nazarene has given us many blessings over the years," said Josephine Manalastas, taking part with her 80-year-old mother.
Police are on full alert for the annual procession. First-aid tents have been set up for any pilgrims injured in the crush.
The statue, crowned with thorns and bearing a cross, is believed to have been brought to Manila from Mexico in 1606 by Spanish missionaries.
The ship that carried it caught fire but the charred statue survived and was named the Black Nazarene.
November's typhoon swept through the central Philippines leaving more than 6,000 people dead.