Hundreds report symptoms amid Japan food pesticide scare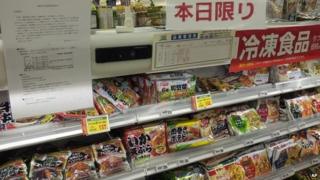 Hundreds of people in Japan say they have fallen ill after eating frozen food that may have been contaminated with pesticide.
Maruha Nichiro Holdings announced last week that it was recalling products after some were found to contain high levels of malathion.
The Health Ministry said at least 556 people had reported symptoms like diarrhoea, vomiting and stomach pain.
The pesticide is used in farming, gardening and for killing fleas.
It was not immediately clear exactly how many people were affected.
Public broadcaster NHK World on Wednesday said almost 900 people had reported symptoms after eating the products, which included pizza and chicken nuggets.
Maruha, which has received hundreds of thousands of phone complaints, issued a public apology in newspapers on Wednesday.
It is recalling at least 6.4 million food packages manufactured at a factory in Gunma prefecture, north of Tokyo.
It started the food recall last week, recovering more than one million packages so far.
"The products will have a strong smell and eating them may cause vomiting and stomach pain," Maruha said in a notice to consumers.
The cause of the contamination has not yet been determined.