Blast 'kills nine' in Pakistan's Khyber agency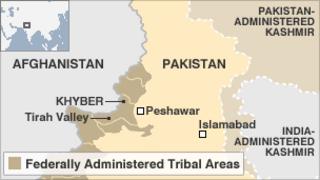 At least nine people, including three children, have been killed in a blast at a house in Pakistan's north-western Khyber tribal area, reports say.
It took place in an arms dump at the home of a tribal leader in the Tirah Valley, which has seen clashes between militant groups and the military.
Officials believe the place was used as a weapons distribution point by Lashkar-e-Islam (LeI) militants.
Police say they are investigating the nature of the blast.
One report suggests that it was set off when explosives were being prepared, but there is no official confirmation of this.
Local officials say the area where the blast took place is remote and under the control of Lashkar-e-Islam, and that the home was that of local LeI leader Hakim Khan.
Three militants are believed to have been among those killed in the explosion.
In recent years the region has seen fierce fighting as the army and several militant groups all vied to control the area, forcing thousands to flee.