Abdus Subhan: Bangladesh Islamist charged over war crimes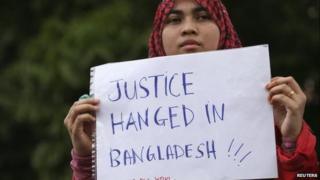 A leading member of Bangladesh's main Islamist party has been charged in connection with war crimes during the 1971 war of independence with Pakistan.
Abdus Subhan was arrested last September and the special war crimes court conducted an inquiry before finally framing charges.
The tribunal was set up in 2010 to investigate abuses committed in that war, but human rights groups say it does not meet international standards.
Mr Subhan has denied all the charges.
Bangladesh broke away from Pakistan after a war which saw killings on a mass scale, the exodus of more than 10 million refugees and military intervention by neighbouring India.
The government set up the special court to deal with those accused of collaborating with Pakistani forces who attempted to stop East Pakistan, as Bangladesh was then, from becoming an independent country.
While many Bangladeshis have welcomed the work of the ICT, Jamaat supporters say it is a politically-motivated attempt to eradicate its leaders.
Earlier this year Bangladesh executed senior Islamist leader Abdul Kader Mullah, convicted of atrocities committed during that war.
Four other leading figures in Jamaat-e-Islami have also been convicted by the ICT and face the death penalty.
Jamaat is barred from contesting elections scheduled for 5 January but plays a key role in the opposition movement led by the Bangladesh Nationalist Party (BNP).
Just last week opposition supporters clashed with security forces in Dhaka ahead of the election - they want to see caretaker government installed before polls, but the government has rejected this demand.