Indonesia volcano Mt Sinabung in fresh eruptions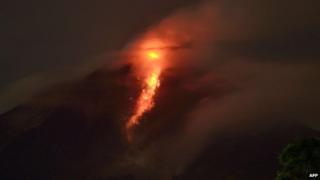 An active volcano in western Indonesia has let out a series of fresh eruptions, forcing around 19,000 people to flee their homes, officials say.
Mt Sinabung, on the island of Sumatra, erupted nine times late on Monday, shooting lava and gas up to 7,000m (23,000 ft) in the air, officials said.
A 5km (3 mile) danger zone is being enforced around the volcano's crater.
It has been showing signs of life since September, after being dormant for three years.
"On Monday night, 19,126 people fled their homes, and we expect that number to rise," National Disaster Mitigation Agency spokesman Sutopo Purwo Nugroho said.
"Mount Sinabung remains on the highest alert level," he said, adding that police and soldiers were patrolling the danger zone to evacuate people.
When the volcano erupted in 2010, at least two people were killed and 30,000 others were displaced.
Before 2010, Mount Sinabung had not erupted in 400 years. It is one of around 130 active volcanoes in the country.