Thai protester shot dead as political crisis deepens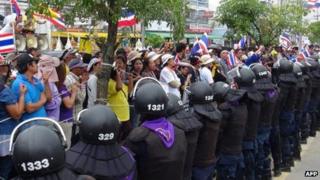 A Thai protester was shot dead and several were wounded by an unidentified gunman in the early hours of Saturday in the capital Bangkok.
Eight people have now died in street clashes which erupted in November.
Meanwhile protests forced the suspension of candidate registration in upcoming elections in at least six provinces in the opposition-dominated south.
They are further signs of the deepening political crisis rupturing the country.
It pits southern and Bangkok-based middle-class Thais against Prime Minister Yingluck Shinawatra and her billionaire family, who are supported by millions of mostly poor Thais from the rural north and north-east.
The latest wave of protests was triggered by the prime minister's unsuccesfful attempt to push an amnesty bill through parliament.
The bill would have exonerated her brother, former premier Thaksin Shinawatra, from a corruption conviction.
A key claim of hundreds of protesters camped out around government buildings in the capital is that Ms Yingluck is serving as a proxy for Thaksin.
'Several gunshots'
Protesters said they were sleeping in tents around Government House when gunfire rang out at about 03:30 on Saturday (20:30 Friday GMT).
"I was sleeping and then I heard several gunshots. I was surprised," one 18-year-old protester, who identified himself by his nickname "Boy", told Reuters news agency.
A man in his 30s was killed, the Erawan medical centre said.
Later, candidate registration was suspended in centres in at least six southern provinces after they were besieged by anti-government protesters, the Election Commission said.
"Our policy is to avoid any confrontation," the commission's secretary general, Puchong Nutrawong, told the Associated Press.
Ms Yingluck has called snap elections for 2 February in a bid to defuse the crisis.
She would be likely to win, but the opposition has demanded that any vote be put off until an unelected "people's council" oversees reforms.
The Election Commission urged the government to postpone the poll on Thursday, after a police officer and protester were killed when protesters stormed a stadium where election candidates were being registered.
But the government has rejected the plea, saying instead that it will ask the military to provide security for the poll.
The powerful military has so far refused to intervene.
It launched its last coup only seven years ago, and correspondents say it occupies a pivotal position in Thai politics.
But following Thursday's violence, commander Gen Prayuth Chan-ocha refused to rule out the possibility of another coup.