China officials jailed over Hunan watermelon-seller death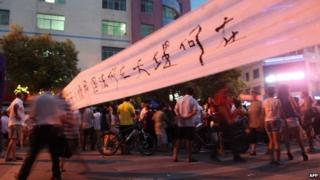 Four Chinese security officials have been jailed for "intentional injury" in a notorious clash that left a melon seller dead, sparking a public outcry.
Deng Zhengjia, 56, died in Hunan province in July after he was hit over the head with a measuring weight during a row with the officials.
They were enforcing an urban code and trying to prevent him from selling fruit in an unauthorised location.
The four officials were given prison terms ranging from three to 11 years.
The officials, also known as chengguan, or Urban Management Law Enforcement force, support the police in tackling low-level offences in cities and have become unpopular with the Chinese public after a series of high-profile violent incidents.
This particular case sparked outrage on China's microblogs and anti-chengguan protests in Linwu county, Chenzhou, where the incident took place.
The local authorities initially said Mr Deng suddenly fell to the ground and died during the confrontation in which officials were trying to prevent him from selling watermelons in a scenic location.
But the Yongxing County People's Court accepted that the officials got involved in a brawl with Mr Deng during which they beat him. It maintained that they did not kill him but that their actions triggered the haemorrhage that did.
Mr Deng's relatives have consistently maintained that he was hit with a measuring weight during the row.
China's microblog users condemned the verdict as too lenient.
"They take a life but don't pay with a life, they are all people but their lives are not treated the same! But this is China, where things are not done according to logic," one user quoted by the AFP news agency wrote.