Australia police seize drugs from methamphetamine lab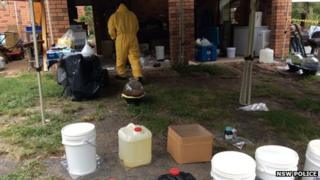 Australian police have seized drugs with a street value of more than A$43m ($38m; £23m) during a raid in New South Wales, officials say.
They say officers found a methamphetamine lab at a property 50 miles (80km) north of Sydney, as well as a South African parrot and a python.
Cars, guns and chemicals were also seized during raids on three other New South Wales properties, they added.
Six men have been arrested on charges including fraud and supplying drugs.
The raids were conducted on Monday, and were part of an operation targeting a drug syndicate in the state, New South Wales (NSW) police said in a statement.
"The number of [clandestine drug] labs shut down by police in NSW during 2013 now totals 113," Detective Superintendent Nick Bingham said.
This is the latest in a series of drug busts conducted by Australian officials.
In October, police said they seized more than 200kg (441lbs) of methamphetamine, hidden in the tyres of a truck in Melbourne.