Afghan general warns over delay in signing US pact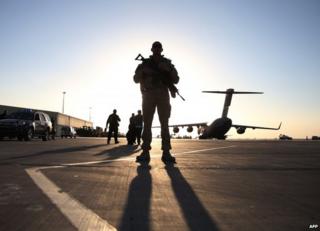 A top Afghan general has said his country may be dangerously exposed if a security pact with the US on its military withdrawal is not signed soon.
Washington insists on a 31 December deadline for President Hamid Karzai to sign the pact, which sets the terms for US troops to stay on past 2014.
Mr Karzai wants to wait until after he leaves office next year.
But the head of ground forces, Lt Gen Murad Ali Murad, told the BBC the army would struggle without US support.
Most Nato-led foreign combat forces in Afghanistan are due to leave next year, as combat operations are declared to be over.
However, the pact could see 15,000 foreign soldiers remaining, primarily as trainers and mentors for the Afghans, but also to conduct "counter-terror operations".
After months of negotiation, the pact, known officially as the Bilateral Security Agreement, was endorsed at a national gathering (Loya Jirga) of Afghan elders in Kabul last month.
Mr Karzai, who has served two terms as Afghanistan's first and only president since the Taliban were ousted from power in 2001, is obliged by law to stand down after elections in April.
'Negotiation is over'
"Without the foreign forces we will have challenges and problems when it comes to the equipping and training of the Afghan national army," Lt Gen Murad Ali Murad said.
"We don't share the view that Afghanistan will slip back into civil war but we need more support and resources so we can deal with the threat posed by the insurgents especially during elections. We need air support and transport."
Mr Karzai, who is believed to be seeking more assurances from the US in the face of continuing Taliban violence, has said he will not allow a continued foreign presence if it means "more bombs and killings" of civilians.
He resisted pressure in November from the Loya Jirga, an assembly of around 2,500 Afghan elders and notables, to sign the pact.
Last month, he reacted to a US air strike which killed a small child and injured two women in Helmand province by saying "American forces have no respect for Afghan lives".
White House press secretary Jay Carney told BBC News in a statement: "We cannot, as has been suggested, wait for further developments in Afghanistan.
"This was negotiated in good faith; the negotiation is over. It can either be signed or not signed, and we believe the message is clear, emanating from Washington and from our representatives in Kabul, that it's time to sign this agreement."
The Nato-led international peacekeeping force (Isaf) handed security for the whole country over to Afghan forces earlier this year but some 97,000 soldiers remain, of whom some 68,000 are Americans.
Nato began separate talks with the Afghan government on Saturday about its presence after 2014 but it is also hamstrung by the delay over the pact.
Nato Secretary General Andres Fogh Rasmussen welcomed the talks but stressed "that the Nato Status of Forces Agreement will not be concluded or signed until the signature of the Bilateral Security Agreement".
Germany's new Defence Minister, Ursula von der Leyen, who is visiting troops in the north Afghan city of Mazar-e-Sharif, echoed his concern.
"It's important to us that we have a secure legal framework," she said. "The Isaf mission is coming to an end but an enormous amount has been achieved here and we want to protect that."