Hagel: China warship action 'irresponsible'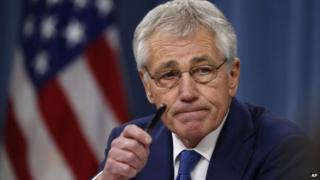 China was "irresponsible" and "unhelpful" during the near-collision of a US warship and a Chinese naval vessel, the US Defence Secretary said.
Chuck Hagel said the Chinese boat cut in front of USS Cowpens on 5 December, and described the act as "incendiary".
China, who described the incident as an "encounter", said the incident was handled with "strict protocol".
It has been described as the most serious Sino-US confrontation in the South China Sea since 2009.
The US said its guided missile cruiser was operating in international waters when a Chinese navy vessel forced it to take evasive action.
But China claims parts of the South China Sea, and state-run newspaper Global Times quoted an expert as saying that the US boat had been "harassing" China's aircraft carrier, the Liaoning, as it carried out drills.
Mr Hagel told reporters: "That action by the Chinese, cutting their ship 100 yards [91m; 300ft] out in front of the [USS] Cowpens, was not a responsible action."
He said the incident was "the kind of thing that's very incendiary, that could be a trigger or a spark that could set off some eventual miscalculation."
"Some kind of a mechanism" was needed "to defuse some of these issues as they occur", he added.
In a statement on Wednesday, China's defence ministry said the two ships met during a "routine patrol" by one of China's naval vessels.
"The Chinese naval vessel strictly followed protocol and handled the incident," it said.
"The two defence departments used normal working channels to stay informed about the situation and communicated effectively."
The Liaoning - which is China's first aircraft carrier - was making its first voyage into the South China Sea, an area in which Beijing has multiple overlapping territorial claims with South East Asian nations.
The incident came amid tensions after China established an air defence identification zone (ADIZ) over a swathe of the East China Sea, including disputed islands controlled by Japan.