Rodman in North Korea to arrange basketball match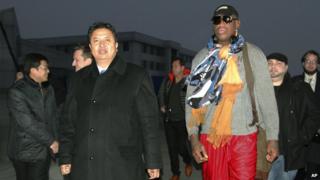 Retired US basketball player Dennis Rodman has arrived in North Korea to arrange a friendship basketball match.
The match between North Korea and a group of ex-players is to mark leader Kim Jong-un's birthday.
The visit comes a week after Mr Kim's uncle was executed, a move described as the biggest shake-up since the death of ex-ruler Kim Jong-il two years ago.
Speaking to reporters in Beijing before his trip, Mr Rodman said the execution had nothing to do with his visit.
"I mean, whatever his uncle has done, and whoever's done anything in North Korea, I have no control over that. I mean, these things have been going on for years and years and years," he told Reuters news agency.
"I'm just going over there to do a basketball game and have some fun," he added.
Organisers of the trip say that Mr Rodman will also train the national basketball team.
The US State Department has stressed that he is not representing the US government on this trip.
'Really cool things'
Mr Rodman has previously described his visits as "basketball diplomacy", and called Mr Kim - a huge basketball fan - his "friend for life".
The retired player plans to bring 12 former players from the National Basketball Association (NBA) of North America for an exhibition game on 8 January.
In an interview with the AP news agency in Pyongyang, he said: "I've come over to see my friend, and people always give me a little hard time about me saying that."
"I'm very proud to say he's my friend, because he hasn't done anything to put a damper, to say any negative things about my country.
"North Korea has given me the opportunity to bring these players and their families over here, so people can actually see, so these players can actually see, that this country is actually not as bad as people project it to be in the media."
He said he would know if he had succeeded in his mission if the former NBA players go home after the game in January saying "some really, really nice things, some really cool things about this country".
Mr Rodman remains the most high-profile American to meet Kim Jong-un since the leader took over after his father died in 2011.
He said that he spent time with Mr Kim and his wife Ri Sol-ju during his last visit in September, and said Mr Kim had a baby daughter called Ju-ae.
'Brutal regime'
US State Department spokeswoman Marie Harf said on Tuesday: "Dennis Rodman is not a representative of the US government in his trip to North Korea."
"We need to focus on what's really important here when it comes to North Korea... the brutality of the North Korean regime he's going to meet."
American Kenneth Bae (known in North Korea as Pae Jun-ho) is detained in North Korea after being arrested in November 2012. He was sentenced to 15 years' hard labour in May.
Mr Rodman previously rejected calls to lobby for Mr Bae's release.
"That's not my job to ask about Kenneth Bae,'' he told reporters after his September visit.