Tokyo Governor Naoki Inose resigns over money scandal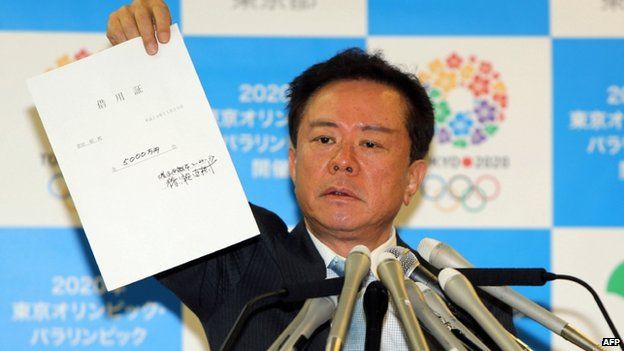 The governor of Japan's capital, Tokyo, has resigned after admitting he received money from a scandal-hit hospital chain ahead of an election.
Naoki Inose described the 50m yen ($500,000; £300,000) payment as a personal loan from operator Tokushukai.
He said he would resign to avoid affecting preparations for the Tokyo 2020 Olympics.
Mr Inose was elected leader of one of the world's biggest cities in December last year.
He was considered key in securing Tokyo's bid to hold the 2020 Olympics.
Mr Inose said he had paid back the loan from Tokushukai.
Announcing his resignation, he said: "I shouldn't be delaying government operations or stalling preparations for the Olympics and Paralympics any longer."
"I intended to fulfil my duty of explaining to the city assembly, people of Tokyo and people of the nation, but regrettably I could not clear doubts over me. It's solely because of my lack of virtue."
He added: "The only solution is for me to step down as governor."
Hospital chain Tokushukai is caught up in vote-buying allegations involving a member of Japan's parliament, Kyodo news agency reported.
A committee has been set up to investigate the cash payment received by Mr Inose.
Mr Inose succeeded Shintaro Ishihara as Tokyo governor. Mr Ishihara, who is known for making provocative comments, resigned in October 2012 to form a new national political party.