Fukushima nuclear operator Tepco to shut two more reactors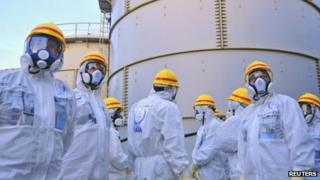 The operators of the crippled Fukushima nuclear power plant in Japan are to decommission two reactors that were not badly damaged by the earthquake and tsunami in 2011.
They have bowed to public pressure that the plant be shut permanently.
Workers are still struggling to stem leaks of contaminated water, and have begun to remove fuel rods from a storage pond at a reactor building.
Four reactors were severely damaged by the disaster that struck in March 2011.
Tokyo Electric Power (Tepco) had delayed making a final announcement on the fate of reactors number 5 and 6 at Fukushima while negotiations continued about the financing of the decommissioning process.
The executive board has now accepted the inevitable and acknowledged there will be no attempt to generate electricity from the plant again.
The announcement came as Japan posted a big jump in its trade deficit for November - to $12bn - the result of a huge increase in energy imports.
Nearly three years after the disaster, Japan is still without any nuclear power.
It used to supply about 15% of the country's energy needs.
The public remains divided over the future of nuclear power, but the increasing trade deficit helps increase the pressure to turn nuclear power stations back on.
Experts estimate that it could take three or four decades to clean up the site at Fukushima and decommission all the reactors.