Viewpoint: Australia PM Tony Abbott's 2014 challenge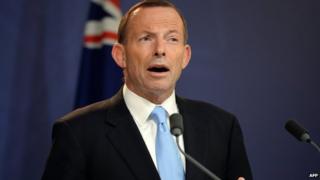 For such a stable, democratic and prosperous nation, Australia has been remarkably careless with its prime ministers this year - three in less than three months, from June to September.
The latest, the new conservative leader, Tony Abbott, has already lost his honeymoon glow. Barely three months after it was hounded out of office, Labor is in front in the polls and Mr Abbott's Liberal-National coalition has, according to one leading poll, slumped to its lowest support level in almost three years.
How to explain it? Tempting as it is to call the electorate fickle (it is) or Abbott incompetent (he isn't) or even Labor resurgent (which it isn't), the truth is a range of domestic and internal issues have mugged the new government.
Most will pass. But the single biggest challenge will not: after 22 consecutive years of growth, the Australian economy is slowing down.
Not only will the new government's economic credentials be sorely tested but also, and more profoundly, its capacity to deliver on a raft of pre-election promises - sticking to its small-government ideology at the same time as managing the country towards a budgetary surplus.
The polls are as much a reflection of a growing unease about these realities as a stern commentary on Mr Abbott's first three months.
Holden blow
That's not to say the government hasn't at times flailed.
It upset conservative state governments by reneging on a pre-election promise about school funding (only to flip back).
And it really upset Indonesia for failing to fully and instantly apologise for spying on its president and his wife - a move that has put at risk vital co-operation on people-smuggling.
More broadly, it is by nature secretive, most noticeably in restricting public information about asylum-seeker arrivals by giving its policy a military classification. Mr Abbott promised a government of grown-ups for grown-ups. But its actions to date suggest the government itself still has plenty of growing to do.
The deteriorating budget position - with combined forecast deficits of A$123bn ($109bn, £67bn) over four years - and the financial woes affecting two iconic "Australian" companies, Holden and Qantas - have made Mr Abbott's job much harder.
Holden, the local arm of US giant General Motors, will cease production in Australia by 2017, at a direct cost of 3,000 jobs and, say unions, up to 50,000 in the wider economy. Qantas, an even bigger "Aussie", has announced 1,000 lay-offs and seen its shares drop to a record low.
Both companies have cited the high cost of doing business in Australia - the government has resisted calls for financial bailouts, decisions that while economically sound will do nothing for national self-pride.
Mr Abbott and his senior ministers are still using the argument that it is all the fault of the previous government, a valid excuse, perhaps, but one showing signs of repetitive strain injury.
The real question is how Mr Abbott and his treasurer Joe Hockey will balance their election promises against the country's economic realities.
The coalition promised to match Labor's spending on schools - and after its flip, has in fact found a further A$1.2bn - and a multi-billion dollar disability insurance scheme. In addition, it wooed female voters with the world's most generous paid parental leave scheme.
The Australian economy has sustained remarkable growth, and with generous government stimulus, survived the global financial crisis without falling into recession.
But, as the central bank governor, Glenn Stevens, has warned in recent days, it will not last forever. "We have built up this myth of 22 years of uninterrupted growth," Mr Stevens told the Wall Street Journal. "We shouldn't do that. Sooner or later we'll have another downturn."
Ashes glow
Exactly how attuned the electorate is to this message is an open question, and barely a day goes by without Mr Abbott, Mr Hockey or another minister seeking to warn voters that the good times fuelled by the mining investment boom and exports to China are very much over.
But with economic growth slowing to sub-trend levels, it appears to be more of a question of when the government will back away from one or more of its core election promises rather than if.
The government has bought itself time - and potential ammunition - by committing to at least 50 reviews, most of them economic, including a commission of audit that will help underpin next year's budget.
These may well provide the avenues for the government to claim the situation is far worse than they thought (hence, really not their fault) or that the overwhelming body of evidence has uncovered the need for new direction.
The business sector remains hopeful that despite promises to the contrary, Mr Abbott will move on workplace reform and broaden the consumption tax base or increase its rate.
Just how bold or acrobatic the new coalition will or can be will be revealed over the first part of 2014. For now, the new prime minister will be hoping that Australia basks in the glow of reclaiming the Ashes.
Not long after his election he mused out loud that "happy the country which is more interested in sport than in politics".
Not for the first time, an Australian leader would have more than a passing interest in an Ashes whitewash - for political reasons.
Peter Fray is the editor-in-chief and founder of the political fact-checking site, PolitiFact Australia, an adjunct professor at Sydney University and the former editor-in-chief of the Sydney Morning Herald.