Pakistan's Ghazala Javed murder: Ex-husband to hang for killing singer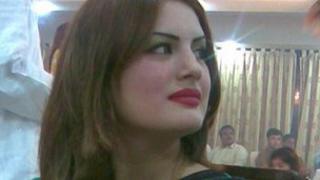 The former husband of popular Pakistani singer Ghazala Javed has been sentenced to death for her murder last year.
Jehangir Khan was convicted by a court in Swat of killing the singer and her father in a gun attack in Peshawar in June 2012.
Khan says he will appeal.
Born into a family of musicians, Ghazala Javed was popular across Pakistan, Afghanistan and among Pashto-speaking communities around the world.
Correspondents say her music fused eastern and western traditions.
She was born in Swat valley, a region which has produced some of the finest Pashto singers and actors, the BBC's M Ilyas Khan reports from Islamabad.
Swat was overrun by Pakistan Taliban militants in 2007.
Ms Javed fled Swat in 2009 when the Taliban started persecuting singers and dancers, and went to live in Peshawar.
During her stay in Peshawar, she continued to sing, often about peace and tolerance. But there were times when she had to restrict her movements due to threats from the Taliban, our correspondent reports.
In 2010 the singer, who was in her mid-20s, married Jehangir Khan, a Peshawar businessman, but she filed for divorce six months later.
She was killed before the court could decide the case.
There were differing accounts of how she was killed.
Her sister, who was injured in the attack, said that armed men broke into the singer's house and killed her and their father.
But according to other accounts, they were killed when gunmen on a motorcycle opened fired on the street.
Two others accused of taking part in the attack are still being sought by police.
Khan's lawyer indicated they will appeal against the verdict in Peshawar High Court.
There is a temporary moratorium on death penalties being carried out in Pakistan.