Execution prompts surprise, fear inside North Korea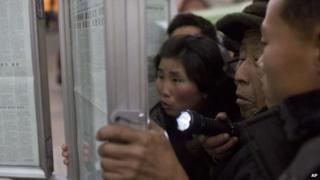 Many North Koreans living here in the South are using covert contacts to get information about what is happening back home.
Their reports suggest a rise in the number of indoctrination sessions across the country, with people being required to write letters pledging their loyalty to the regime and also letters of "self-reflection" examining their own behaviour.
The sudden execution of the country's second-most senior statesman, North Korean groups here say, has created a considerable amount of "surprise, bafflement" and "fear".
Jang Jin-sung left North Korea in 2004 and now runs a news website devoted to reporting events inside the country.
"You can really feel a sense of crisis when you hear people's voices on the phone" Jang Jin-sung said.
"They seem to really suffer from fear: it resonates in their voices. They say times have changed now that the leader himself is getting directly involved in removing his family members."
'Scapegoat'
The fear inside North Korea may have grown, but there is also a suggestion from some sources that the execution has diminished Kim Jong-un's authority.
One trader told a contact here in Seoul that "half the public in North Korea believes Chang Song-thaek was a scapegoat - purged to take the blame for the country's economic failures".
He also said that, away from the public indoctrination sessions, North Koreans were discreetly talking amongst themselves, asking how Kim Jong-un could do this to his uncle?
A report from another trader seemed to confirm this, saying that the execution showed Kim Jong-un's lack of morality and that attitudes towards him had "turned in a negative direction".
"The deification of the North Korean leader has completely changed with the purge of Chang Song-thaek," Jang Jin-sung said. "There is no longer a god-like aura around the country's leader."
North Korea has been keen to project a sense of stability following the execution. Kim Jong-un has continued his regular public appearances - visiting various military and commercial projects.
And state media has been trumpeting its achievements over the past year - new roads, health-care centres and ski-resorts.
But South Korea's government is unconvinced by the mask of stability. President Park Geun-hye warned before meeting high-level defence officials on Monday that the execution had left the Korean Peninsula in a "grave and unpredictable" situation.
It was uncertain which political direction North Korea would move in, she told government officials, and "reckless provocations" by Pyongyang could not be ruled out.
Military action by North Korea over the coming days could signal disruption within the country, and a need to pull its people together.