South Korea security summit over North execution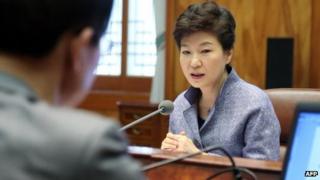 South Korea's president has convened a meeting of security officials after the shock execution of North Korean leader Kim Jong-un's uncle.
Ahead of the meeting President Park Geun-hye warned of possible "reckless provocations" by the North and called for increased border vigilance.
Last week's execution of Chang Song-thaek left the region in a "grave and unpredictable" situation, she said.
Mr Chang, a key figure, was executed for allegedly planning a coup.
The move - together with the recall of a North Korean business team from China - prompted concerns that Mr Chang's associates were being purged as part of a campaign by Kim Jong-un to consolidate his power.
China's foreign minister, meanwhile, said he believed an "important change" was taking place inside North Korea.
China - which in state media has called for Kim Jong-un to visit Beijing - was "closely watching" the situation, Wang Yi said.
'Business as usual'
"Given the latest development in the North, it is uncertain in what direction its political situation would evolve," Ms Park said early on Monday.
"We also can't rule out the possibility of contingencies such as reckless provocations," she added.
The president later met her foreign affairs and security officials in a specially convened session to discuss events in the North.
Meanwhile, North Korea has been keen to present an image of business as usual, the BBC's Lucy Williamson in Seoul reports.
A government official in Pyongyang said on Sunday that the country's economic plans would carry on undisrupted.
At the same time, Mr Kim has continued with his usual public appearances, visiting a military design institute and a construction site.
The young leader's uncle was executed on Thursday after appearing before a special tribunal, state media said.
He was accused of multiple crimes, including damaging the economy and trying to build a power-base.
Mr Chang had been seen as a power-behind-the-throne figure and a mentor to Kim Jong-un.
His execution has sparked fears of military action by Pyongyang as a way to build unity in the country, our correspondent adds.
On Sunday, US Secretary of State John Kerry called the execution an "ominous sign" of instability inside North Korea.
"It tells us a lot about, first of all, how ruthless and reckless he is," Mr Kerry said of Kim Jong-un. "And it also tells us a lot about how insecure he is, to a certain degree.
"The insights that we have tell us that he is spontaneous, erratic, still worried about his place in the power structure, and manoeuvring to eliminate any potential kind of adversary or competitor, and does so obviously ruthlessly."
In a separate development, Mr Chang's wife - Kim Jong-un's aunt - was named to a state committee on Sunday, indicating that she remained in a position of influence.
Kim Kyung-hee is the younger sister of late leader Kim Jong-il.
North Korea's secretive 'first family'