North Korea 'summons business people from China'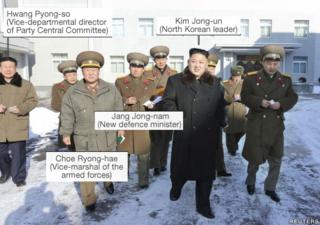 North Korean business people are being recalled from China following the execution of top official, Chang Song-thaek, says a South Korean report.
Leader Kim Jong-un may be purging associates of Mr Chang, who was in charge of economic ties with China.
Mr Kim has been pictured by state media for the first time since the execution of Mr Chang, his uncle.
The South Korean government believes Kim Jong-un is trying to consolidate his power through a reign of terror.
The execution of the leader's uncle on Friday raised international concern about the stability of the nuclear-armed state.
North Korea has summoned back business people working out of the north-eastern Chinese cities of Shenyang and Dandong, sources told the South Korean news agency Yonhap.
They are in China to enhance bilateral trade and investment.
Another source told the agency Pyongyang planned to bring all officials and staff home from China in stages.
It appeared to be a crackdown on those perceived as loyal to Mr Chang, Yonhap said.
It could also be another sign that Mr Chang's downfall reflected discomfort at his enthusiasm for Chinese-style economic reform.
There have been other reports over recent days about officials being recalled to North Korea from abroad.
South Korean intelligence officials say two of Mr Chang's closest aides were executed last month, and analysts suggest the purging of such a high-profile figure is unlikely to take place without a "ripple effect" - a purge of others linked to them.
Mr Kim was pictured in photographs released by state media for the first time since the dramatic execution of Mr Chang on Thursday following a military trial.
He was shown touring a military design institute, trailed by military officers, many taking notes. Among them was Mr Kim's personal envoy, Vice-Marshal Choe Ryong-hae.
The pictures appeared designed to demonstrate Mr Kim's continuing hold on power and "business as usual" for the North Korean leadership, said commentators.
The images will also be scrutinised for clues to Mr Kim's inner circle, analysts say.
Among those pictured in the latest photographs are believed Hwang Pyong-so, vice departmental director of Party Central Committee (not in military uniform), Choe Ryong-hae, vice-marshal of the armed forces, and Jang Jong-nam, the nation's new defence minister.
Mr Chang was married to the sister of late leader Kim Jong-il, and is believed to have mentored Kim Jong-un when he succeeded his father in North Korea in 2011.
He had been seen as the second-most important figure in the country, holding several key posts, but last week was shown being dramatically removed from a special party session by armed guards and stripped of all his titles before his execution days later.