Lawyer for 'Bin Laden doctor' flees Pakistan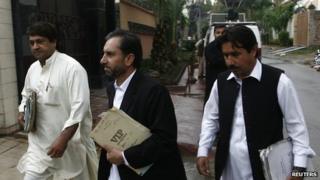 A lawyer for the jailed Pakistani doctor who helped the US track down former al-Qaeda chief Osama Bin Laden has fled the country because of safety fears, a colleague and relatives said.
Samiullah Afridi was being pressured by some quarters to back down from Shakil Afridi's defence, they said.
Mr Afridi is one of a panel of three lawyers representing Dr Afridi.
He is appealing against a 33-year court sentence for alleged links to a banned militant organisation.
Dr Afridi was arrested in May 2011 for what many ex-military defence analysts considered to be his role in organising a hepatitis vaccination campaign that aimed at procuring DNA samples from residents of a compound where Bin Laden was subsequently found.
But a year later, he was sentenced to 33 years in jail for a totally different offence - collaborating with Lashkar-e-Islam militant group in his native Khyber tribal region.
In a hand-written letter smuggled to his lawyers from his prison cell earlier this month, Dr Afridi said that he was being denied his right to a fair trial. It was his first contact with them for 15 months.
The BBC's M Ilyas Khan in Islamabad says many observers believe that Dr Adridi has been made a scapegoat for the intelligence failings of the military leading up to Bin Laden's death.
Threats
"Samiullah Afridi left yesterday [Wednesday]," Qamar Nadeem, another legal counsel for Dr Afridi, told the BBC.
"I had met him a day earlier but he did not indicate he had any plans to leave the country. I have now been told he is gone," he said.
Mr Nadeem said that Mr Afridi - who is not related to Dr Afridi - had mentioned to him on a number of occasions in recent days that he was receiving threats.
"I didn't ask and he never told me who was threatening him, or what was the nature of those threats," he said.
One of Mr Afridi's relatives told Reuters news agency that a militant group had threatened to blow up his car and kill his family if he did not stop pleading Dr Afridi's case.
Samiullah Afridi was among three lawyers who filed an appeal on his behalf against the sentence.
The lawyers have been banned from meeting Dr Afridi in jail since September 2012 when he gave an interview to Fox News using a phone smuggled into his prison cell.