New Zealand drops Pike River mine boss charges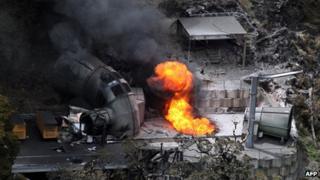 New Zealand's government has dropped charges against the head of a coal mine where 29 miners were killed in a 2010 blast.
Prosecutors said that the decision was made as the likelihood of a successful conviction against Peter Whittall, former Pike River Coal chief, was low.
The move has angered relatives of the miners, who say that justice has been denied.
The blast was one of the worst mining disasters to hit New Zealand.
An official investigation last year found that the 19 November 2010 incident on the South Island was caused by a methane gas explosion.
Earlier this year, the company was found guilty of multiple health and safety violations, and was ordered to pay compensation to victims' relatives.
In a statement, the Ministry of Business, Innovation and Employment said: "Taking into account the available evidence, the ministry considered that the likelihood of obtaining a conviction was low."
It said that the public interest "was not met by continuing with a long costly trial with a low probability of success", and added that it had considered the fact that "the principal offender (Pike River Coal Limited (In Receivership)) has been convicted and fined."
On Thursday, it was announced that the company would pay a total of NZ$3.41 ($2.82m; £1.72m) in compensation to the families of the miners.
However, the families have reacted angrily to the news that charges had been dropped against Mr Whittall.
"Justice just wasn't served today for the families," Bernie Monk, whose son died in the disaster, told reporters outside the Christchurch District Court.
Anna Osborne, whose husband died in the blast, said: "It is just another slap in the face for the families," and described the compensation package as "blood money".
West-Coast Tasman MP Damien O'Connor said: "While Labour is pleased the families will receive their $3.4m compensation... it was never about the money."