Pakistan cleric Maulana Sami ul-Haq backs polio campaign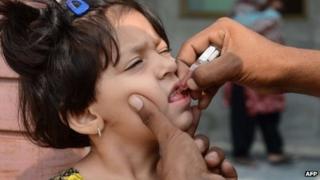 A prominent religious seminary in Pakistan has backed polio vaccinations, saying they are not un-Islamic.
The decree was issued by the school's head, Maulana Sami ul-Haq, who urged parents to immunise their children.
The fatwa comes amid a decade-long campaign of violence by Islamist groups against health workers who they accuse of being spies or part of a Western plot to sterilise Muslims.
Darul Uloom Haqqania wields great influence with Taliban groups.
There was no immediate response to the decree from the Taliban and a ban on polio vaccination imposed by the militants in Pakistan's Waziristan tribal region is still in place, the BBC's M Ilyas Khan in Islamabad reports.
Pakistan is one of only three countries where polio remains endemic, due in part to militant resistance to polio mass vaccination campaigns. Nigeria and Afghanistan are the others.
The campaign against immunisation was started by the current Pakistani Taliban leader, Mullah Fazlullah, in 2005, and turned more violent after US forces killed former al-Qaeda chief Osama Bin Laden, in a secret raid in 2011.
It was believed that a Pakistani doctor helped lead the CIA to Bin Laden by conducting a fake vaccination campaign near his hideout in the city of Abbottabad.
Maulana Sami ul-Haq had opposed polio vaccinations on the grounds that the campaign had been used to kill Bin Laden.
But in the fatwa, which was issued late on Monday, he said that vaccines which prevented polio, measles, hepatitis, diptheria, meningitis and some other diseases were "helpful in their prevention" and were "in no way harmful".
A number of health workers administering polio drops to children have been killed in the past year by militants across Pakistan.
There were 35 cases of polio in Pakistan in 2012, according to the Polio Eradication Initiative.
Hundreds of thousands of children have missed vaccinations since last year in parts of Pakistan's tribal region, the main sanctuary for Islamic militants, because of security concerns, the UN says.