Bangladesh court to decide Abdul Kader Mullah execution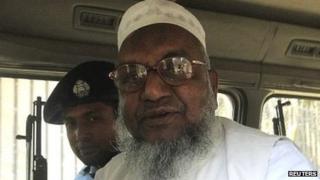 The execution of an Islamist leader, Abdul Kader Mullah, has been postponed while Bangladesh's Supreme Court continues to hear legal arguments.
Mullah's lawyers told a hearing on Wednesday he had "a constitutional right" to appeal against his sentence.
It follows a dramatic last-minute reprieve just 90 minutes before his scheduled execution on Tuesday night.
He was convicted in February of crimes against humanity during the country's 1971 war of independence from Pakistan.
The senior leader of the Jamaat-e-Islami party denies the charges.
The Jamaat-e-Islami assistant secretary general had been scheduled to be executed at Dhaka Central Jail at one minute past midnight on Wednesday morning.
But a Supreme Court judge agreed a stay of execution after he was petitioned by defence lawyers, who said the Bangladesh government had made preparations to execute Mullah without completing all necessary legal procedures.
After more than two hours of legal argument, Chief Justice Muzammel Hossain adjourned the hearing until Thursday.
The order halting his execution will remain valid until the current hearing is finished.
Protests
The Bangladeshi government had tightened security ahead of the scheduled execution, but that did not prevent demonstrations in parts of the country.
Police said a protester was shot dead on Tuesday after Jamaat supporters threw petrol bombs at police officers in the southern town of Feni.
Jamaat activists also set vehicles alight and threw petrol bombs in the capital, Dhaka, and the port city of Chittagong.
But hundreds of supporters of the special court also gathered in Dhaka on Tuesday, where they chanted calls for Mullah's execution to be carried out.
Human rights groups had warned that by executing Mullah without giving him an opportunity for a review, Bangladesh could be breaking international law.
His trial earlier this year sparked protests from Jamaat supporters who accused the government of pursuing a political vendetta, which has resulted in the imprisonment of several of the party's senior leaders.
Mullah, who denied all the charges against him, was accused of being a member of a shadowy force called al-Badr during the war of independence.
It is a force which Jamaat, which was opposed to breaking away from Pakistan in 1971, is alleged to have created.
Al-Badr is accused of the kidnapping and murder of more than 200 Bengali intellectuals in the dying days of the war.
Mullah was also accused of being behind a series of killings including massacres in the Mirpur area of Dhaka, which earned him the nickname of "koshai" or butcher of Mirpur and made him one of the more feared Jamaat leaders.
Mullah was convicted in February and initially sentenced to life imprisonment, but in September the Supreme Court increased that to the death penalty.
Then, on 8 December, the war crimes court ordered prison authorities to proceed with the execution.
The special court was set up in 2010 by the current Bangladeshi government to deal with those accused of collaborating with Pakistani forces who attempted to stop East Pakistan (as Bangladesh was then) from becoming an independent country.
But human rights groups have said the tribunal falls short of international standards.