US Defence Chuck Hagel meets Pakistan PM Nawaz Sharif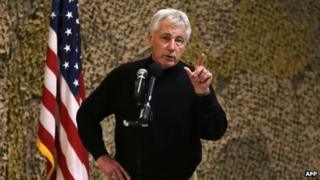 The United States Defence Secretary, Chuck Hagel, has held talks with Pakistani Prime Minister Nawaz Sharif in Islamabad.
Mr Sharif discussed Pakistan's deep concern over continuing US drone strikes, his office said in a statement.
This is the first visit by a US defence secretary to Islamabad in four years.
Before the meeting Mr Hagel said there was some friction in bilateral ties and he wished to tackle that head on.
Strikes 'counter-productive'
During the meeting, the men held "in-depth exchanges on a whole range of issues" including defence and security co-operation, the Pakistani statement said.
But it added that "drone strikes were counter-productive to our efforts to combat terrorism and extremism on an enduring basis".
The visit comes at a time of tension between the two countries.
Last week the US military halted its ground cargo shipments from Afghanistan via Pakistan because of the risk to drivers after protests over drone strikes.
Pakistanis had blocked the US main supply route to Afghanistan, angry at civilian deaths caused by drones.
However, US officials say the suspension of shipments was a temporary measure and is now over.
Another topic of discussion was Afghanistan.
During a visit to Kabul last month, Mr Sharif pledged to help facilitate peace talks between the Afghan government and the Taliban.
The Taliban launch attacks from bases inside Pakistan and elements of Pakistan's intelligence service have been accused of backing the Afghan Taliban.
However, Islamabad strongly denies there is any official collusion.
Mr Hagel arrived in Pakistan from Afghanistan, where he met American troops serving in the south-west of the country.
He urged the Afghan government to sign a bilateral security agreement between the two countries to allow some US troops to remain in the country after 2014. Most international forces are due to withdraw by the end of next year.