'Secret' Pakistani prisoners appear before Supreme Court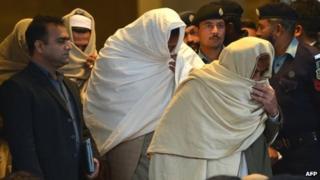 Fourteen prisoners alleged to have been held in secret and without charge by the Pakistani army have appeared before the Supreme Court in Islamabad.
Six of the 14 men were identified by their relatives, who say they disappeared after being handed over to the military from a detention centre.
Officials say more prisoners will be presented in the coming days.
Many people have been held without charge in recent years in crackdowns on militants and nationalist groups.
The military produced the men to comply with a Supreme Court ruling.
Relatives had launched a legal bid to force the military to produce 35 people who had not been seen since being handed over to the military.
"We presented these people to obey the court orders and will present more people before the court on Monday or Tuesday," Arif Nazir, a senior official of ministry of defence, told the Agence France-Presse news agency..
Hundreds of people have been held in similar circumstances, rights groups say.
Supreme Court Chief Justice Iftikhar Muhammad Chaudhry, who retires on 12 December, has pursued the cases that have come before the court, pushing the army and intelligence agencies to reveal the detainees' whereabouts.
Last year, relatives of seven men who were picked up by men in plain clothes from a Pakistani jail said that they were being treated in a hospital on court orders.
Those men also appeared in court, with three of them unable to walk without physical support. It is alleged that four others who were held at the same time died after being tortured by intelligence agents.