Australia police lose swallowed ring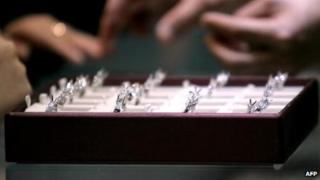 Australian police say they have lost a ring swallowed by a man under arrest after trying to rob a jewellery shop.
The man is accused of stealing and then swallowing two diamond rings from a jeweller in Queensland last week.
He has been in custody ever since so that the rings could pass, but police say they now fear one of the rings has been thrown out in a bag of waste that was not searched.
Police said they thought the man would tell them when the ring emerged.
"With the benefit of hindsight, it's easy to sit here and say we should have conducted a secondary search regardless," Queensland Deputy Police Commissioner Ross Barnett said.
"This is a rare and difficult set of circumstances, no one sets out to lose evidence."
"They've done the best they could... unfortunately there was a gap in the processes they put in place."
The waste has been sent to landfill and police say searching for it would be prohibitively expensive. They are discussing compensation with the shop owner, the Australian Broadcasting Corporation said.
But they said the absence of the ring would have "no detrimental impact on the prosecution".
The other ring is still inside the suspect, an X-ray has shown. He is being taken daily to a special toilet used by the customs service at Brisbane airport, and is also being monitored.
"I'm sure, without having spoken to him, he probably regrets it," Mr Barnett said. "It's not a pleasant way to spend a week of your life and it's not over yet."