Sri Lanka investigates Colombo runaway train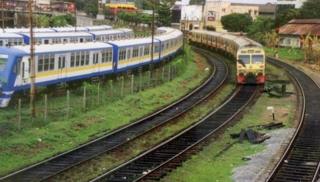 An "out of control" train engine in Sri Lanka moved a distance of about 12km (7.4 miles) through the capital, Colombo, without a driver, railway officials have told the BBC.
No-one was hurt despite several road crossings in its path.
It was only stopped when a technician jumped on board, a Sri Lanka Railways (SLR) official said.
An inquiry has been launched and two staff alleged to be responsible are reported to have been suspended.
Engine drivers have responded by going on strike.
"Yes, it's true," Lalith Wickremaratne, SLR's Chief Engineer said, confirming reports of the phantom journey which happened between midnight and 02:00 local time.
The shunting engine was stationed at a hydraulic locomotive shed in Dematagoda, north-east of central Colombo.
"[It] moved from its shed without any person or operator and proceeded up to Ratmalana [in the southern suburbs]," Mr Wickremaratne said.
It appeared someone had failed to switch off the clutch or had tried to start it, but it moved without a driver until someone at its yard reported its absence.
An engineer then contacted other yards to find out whether a stray locomotive had been sighted and it was found near the city centre.
Engineers then adjusted points to divert it towards an engine workshop at Ratmalana.
To speed up the process, technicians were also sent by ambulance to intercept it.
As it was travelling at about 5 km/h (3.1 mph) by then, one managed to get on board and stop it near the points.
No-one was hurt but "it could have been dangerous", Mr Wickremaratne said, not least because of the many road and rail level crossings in the capital.
Alongside the inquiry, precautionary measures - including "further education of our staff" - are being taken to prevent a recurrence, he said.