IAEA praises Japan's Fukushima clean-up operation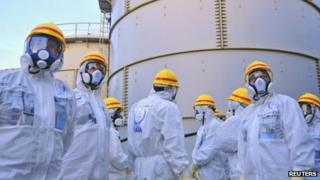 A team from the International Atomic Energy Agency (IAEA) has praised Japan for making progress in stabilising the Fukushima nuclear plant.
However the team, which has spent 10 days inspecting the plant, also said the process of decommissioning Fukushima is "extremely complicated".
It said more needs to be done to deal with the huge amounts of radioactive water generated at the site.
Work began last month to remove fuel rods from a reactor building.
According to the IAEA team, there have been two big improvements at Fukushima since their last visit.
Firstly nuclear fuel is now being removed from reactor number four - and put in to safe storage. That process is going well.
Secondly the radioactive water at Fukushma is being managed much better than before, and leakage has been reduced.
"The team considers that since our previous mission in April this year, Japan has achieved good progress in improving its strategy and in allocating necessary resources to conduct a safe decommissioning of the Fukushima nuclear power station," team leader Juan Carlos Lentijo said as he delivered the interim report.
"The team considers that the situation remains very complex and that there are still very challenging issues that must be solved for the plant's long-term stability," he said.
The IAEA team reviewed the management of contaminated water that has been used to cool reactor cores, as well as work on removing fuel assemblies from the spent fuel pool in reactor four.
The BBC's Rupert Wingfield-Hayes in Tokyo says that the biggest problem remains - what to do with the vast quantity of radioactive water now being stored at Fukushima.
The 19-strong IAEA team says this water needs to be treated - decontaminated - and then released in to the sea.
One decontamination plant has been built - and two more are planned.
But our correspondent says that even if the water can be cleaned there is huge local resistance to releasing it into the sea - and so the hundreds of thousands of tonnes of water stored at Fukushima continues to grow.
"Regarding the growing amounts of contaminated water at the site, the Tokyo Electric Power Company (Tepco) should... examine all options for its further management, including the possibility of resuming controlled discharges [into the sea] in compliance with authorised limits," an IAEA statement said.
"To pursue this option, Tepco should prepare appropriate safety and environmental impact assessments."
Correspondents say that the roadmap towards decommissioning the plant envisages a process that is likely to last three or four decades.
1. Small crane retrieves spent fuel rods from storage pool. A protective shell has been built over the top of the damaged reactor building. There are 1,331 spent fuel rods and 202 unused fuel rods to be removed.
2. Fuel rods are carefully lowered into specially-constructed casks, which each weigh 91 tonnes and can hold up to 22 rods.
3. A larger crane lifts full cask out of the storage pond and lowers it out of the building and on to a flat-bed truck. The casks will then be taken to a safe storage pool on the Fukushima site.