Biden: US 'deeply concerned' by China's air zone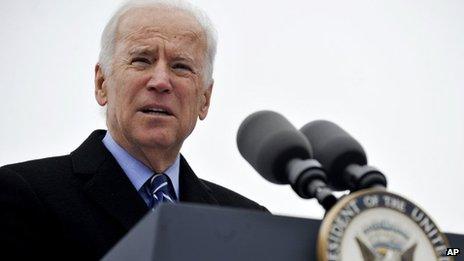 The US remains "deeply concerned" about China's new air defence identification zone (ADIZ), Vice-President Joe Biden has told Japanese PM Shinzo Abe.
Following their meeting in Tokyo, Mr Biden said the zone increased the risk of accidents and miscalculations.
He called on China and Japan to improve communications to reduce the risk of escalations.
Mr Biden met Mr Abe on the first day of a six-day tour of East Asia, also taking in Beijing and Seoul.
The air zone row is likely to dominate the week of talks.
Both the US and Japan have voiced strong criticism of China's establishment of an ADIZ that includes islands claimed and controlled by Japan. It also includes a submerged rock claimed by South Korea.
China says aircraft operating within its ADIZ must follow certain rules such as filing flight plans, or face "defensive emergency measures".
"We, the United States are deeply concerned by the attempt to unilaterally change the status quo in the East China Sea," Mr Biden told a joint news conference with Mr Abe on Tuesday.
"This action has raised regional tensions and increased the risk of accidents and miscalculation. We are closely consulting with our allies on this matter here in Japan and in Korea which I will soon visit, later this week."
Mr Abe repeated his criticism of the Chinese move, and said Japan and the US would co-ordinate their response.
"We should not tolerate the attempt by China to change the status quo unilaterally by force. We will continue to work closely in dealing with the situation based on a strong US-Japan alliance," he said.
Mr Biden's most important task this week will be persuading Beijing and Tokyo to stop baiting each other, and to start talking about how to avoid an unintended clash, reports the BBC's Rupert Wingfield-Hayes in Tokyo.
US, Japanese and South Korean military aircraft have all defied China's new rules and Japanese commercial carriers have agreed to a government request not to comply.
On Friday, China scrambled fighter jets to monitor US and Japanese planes flying in the area.
Tokyo has told its national carriers JAL and ANA not to file flight plans with the Chinese side when transiting the zone, but on Friday the US said it expected its carriers to "operate consistent with Notams (Notices to Airmen) issued by foreign countries".
This did not indicate "US government acceptance of China's requirements for operating in the newly-declared ADIZ", the state department said.
"Our general position as a US government is that we don't accept China's requirements," US State Department spokeswoman Jen Psaki reiterated on Monday.
Tensions between Japan and China have been high for months because of a territorial row over islands in the East China Sea.
Japan controls the islands, which are called Senkaku in Japan and Diaoyu in China. They are also claimed by Taiwan and lie in a strategically important area south of Japan and north of Taiwan.
The US has described China's move as destabilising.
After Tokyo, Mr Biden heads to Beijing for talks with President Xi Jinping and then travels on to South Korea.