Arson blamed for huge Bangladesh garment factory fire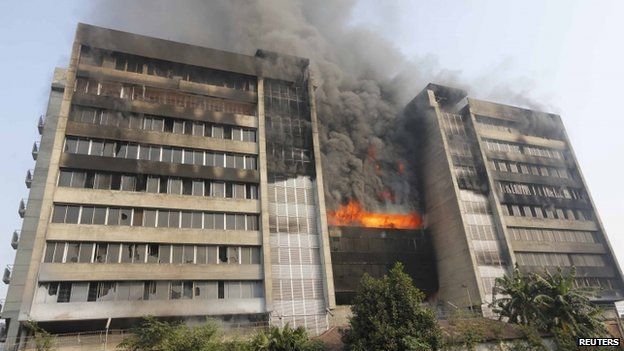 Arson is being blamed for a huge fire at a garment factory in Bangladesh which makes clothes for Western brands, fire and police authorities say.
The fire gutted a 10-storey building at Gazipur, 40km (25 miles) from Dhaka.
Firemen are battling to extinguish flames in four adjacent buildings.
Police say that the fire follows protests by garment workers to demand higher wages and better conditions. A garment factory collapse in April killed more than 1,100 people.
No-one was reported injured in Friday's fire.
A Reuters photographer at the Standard Group garment factory said that burnt garments were strewn at the scene bearing brand names from US and other international retailers.
Officials say that the factory was one of the biggest in the country and as many as 18,000 people worked there.
At least 15 trucks carrying garments were also reported to have been set on fire.
"We think it's an act of arson committed by workers from both inside the factory complex and outside," Mosharraf Hossain, a senior officer in the Industrial Police force, told the AFP news agency.
Police and witnesses said tempers flared after a mosque loudspeaker announced that a garments worker had been killed when police opened fire and used tear gas to disperse a road blockade by workers who had clashed with police near the factory on Thursday morning.
A recent string of accidents in garment factories has put pressure on the government, industrialists and foreign retailers to reform an industry that employs four million people and generates 80% of export earnings.
Demand for reform escalated after the collapse of the Rana Plaza factory complex in April, one of the world's worst industrial accidents.
Related Internet Links
The BBC is not responsible for the content of external sites.