Afghan President Karzai condemns 'deadly US air strike'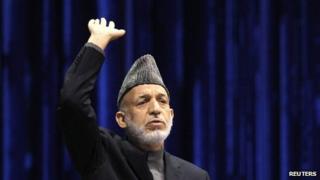 Afghan President Hamid Karzai has condemned a US air strike that killed a small child and injured two women in the southern province of Helmand.
Mr Karzai's spokesman said the raid on a house was another sign of America's disregard for civilian life. Nato has said it will investigate the strike.
It comes as Washington and Kabul are finalising a deal allowing US troops to remain in Afghanistan after 2014.
Mr Karzai refuses to sign the pact, seeking further assurances from the US.
Earlier this week his office demanded guarantees that American troops would not raid Afghan homes and that Washington would help start stalled peace talks with the Taliban.
Also among his conditions was the return of Afghan nationals held in Guantanamo Bay, according to reports.
Last weekend elders at a grand assembly (Loya Jirga) in Kabul called for the deal to be signed.
'Cruelty'
A presidential statement said Thursday's strike in Helmand "reveals that American forces have no respect for Afghan lives".
It said that as long as such "cruelty" continued, "the security pact will not be signed with America".
The Afghan Islamic Press news agency said the US raid hit a house in the Faqiran village in Garmser district. It said a two-year-old child was killed in the attack.
In a statement Nato's International Security Assistance Force (Isaf) said that it "deeply regrets any civilian casualties caused by this airstrike".
The statement said that the target was an "insurgent riding a motorbike".
But the coalition said it had received reports that the airstrike mistakenly killed a child in addition to the intended target, and that two women had been injured.
The coalition vowed immediately to launch an investigation, and to "work with Afghan officials to determine what happened and why".
"We extend our deepest sympathies to the families and loved ones of those killed or wounded," the statement said.
Accidental Afghan casualties are a major source of friction between the government in Kabul and the US-led troops.
The US-Afghan security deal may see 15,000 foreign troops remain after 2014, although Washington says it has not yet taken a decision on any presence.
The soldiers who stay beyond 2014, when most foreign combat forces leave, would primarily train and mentor Afghan forces. Some special forces would stay to conduct "counter-terror operations".
Washington insists the deal - which has taken months to negotiate - must be signed before the end of this year.