Taliban urge Pakistanis to 'stop praising Sachin Tendulkar'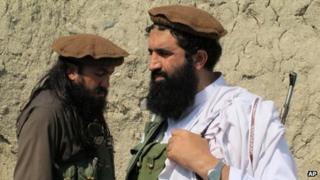 The Pakistani Taliban have urged the country's media to support their cricket captain Misbah-ul-Haq even though he is a "pathetic player".
Spokesman Shahidullah Shahid said the media had been wrong to praise Indian star Sachin Tendulkar, who retired this month after a brilliant 24-year career.
Shahid used the cricket analogy to criticise coverage of Pakistani Taliban leader Hakimullah Mehsud's death.
He was killed in a US drone strike earlier this month.
The militants, now led by Mullah Fazlullah, are under pressure to take part in peace negotiations with the government.
Given recent developments, many observers were surprised by the focus on cricket in the Pakistani Taliban spokesman's extended video message.
"An Indian sportsman whose name is Tendulkar was praised by the Pakistani media and in fact a lot of Pakistanis [also] complimented him," Shahidullah Shahid said in the video recording, where he is seen alongside two masked men with AK-47 rifles.
"At the same time [the media] showed disapproval of Misbah-ul-Haq. [But...] Even though Tendulkar is a great sportsman you should not praise him, as it is against the national interests of the country.
"Instead you should praise Misbah despite the fact that he is a pathetic player, because he is ultimately a Pakistani."
Shahid defended the views of Islamist scholar Munawar Hassan, who described Hakimullah Mehsud as a martyr after his death.
The Pakistani Taliban spokesman went on to say that those who praised soldiers "fighting for America, secularism, democracy and British-made laws" were like those who applauded Tendulkar instead of Misbah.
Newspapers and TV stations across South Asia have been awash with tributes to Tendulkar, who retired on 16 November as the world's leading run-scorer in both Test and one-day cricket.
Despite one of the fiercest rivalries in world sport, Pakistanis have taken part in the outpouring of praise for the Indian batsman, the only man to score 100 international centuries.
Misbah is regularly criticised for his conservative tactics and unaggressive batting style as captain, correspondents say.