Raheel Sharif named as new Pakistan army commander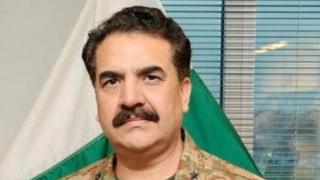 Pakistan has appointed Lt Gen Raheel Sharif as its new army head after weeks of speculation, a move correspondents say could define PM Nawaz Sharif's third term in office.
Lt Gen Sharif replaces Gen Ashfaq Pervez Kayani, who retires on Thursday.
The government has also named Lt Gen Rashid Mahmood as the new chairman of the Joint Chiefs of Staff Committee.
The appointments are seen as vital in fighting the Taliban and in determining the army's role in politics.
Correspondents say Prime Minister Nawaz Sharif will have carefully considered his crucial appointment of Lt Gen Sharif - who is not related to him - because the prime minister has twice had run-ins with the military during previous terms in office.
In 1999 Mr Sharif was forced from office in a military take-over led by Gen Pervez Musharraf.
In 1993 army chief Abdul Waheed Kakar led a push to get Mr Sharif to resign and hold elections following a long-running political stand-off between the prime minister and President Ghulam Ishaq.
In a separate development, it was reported that Pakistan will have a new chief justice in office by 12 December.
Media reports said that Justice Tassaduq Hussain Jillani will replace Iftikhar Muhammad Chaudhry.
Mr Chaudhry was one of several judges sacked by military leader Gen Musharraf in 2007 after they questioned his right to remain in office.
As chief justice he was admired by many for standing up to the military and taking politicians to task. But he was also criticised for exceeding his authority and interfering in politics.
His successor is expected to be more low-key.
Overt interference
Gen Sharif' brother was one of the army's most decorated soldiers and was killed in the 1971 war with India.
The new army chief, a career infantry soldier, is expected to continue Gen Kayani's policies and will avoid overt interference in politics.
Gen Sharif is thought to have been third on the army's seniority list.
He is not known as an ambitious general, the BBC's Shahzeb Jillani in Islamabad says.
"The officer carries with him a vast experience of command, staff and instructional appointments," Pakistan's Inter Services Public Relations (ISPR) said in a statement.
Before his promotion, he headed the army's training and evaluation department and has previously served in senior roles as a corps commander and head of the country's premier training institution, the Military Academy in Abbottabad.
He is seen as the architect of a significant change of military strategy from 2007 in which the focus has switched away from the traditional rivalry with India to a more nuanced policy in which the internal threat from the Taliban has become the main priority.
The change of command comes as Pakistan faces a daunting array of challenges - including a home-grown Taliban insurgency that has claimed thousands of lives, strained relations with India over the Kashmir dispute and the winding-down in 2014 of the 12-year Nato mission in neighbouring Afghanistan.
Pakistan has experienced three military coups since independence in 1947 and has been run by the army for half of its 66-year history.
It underwent its first handover of power between democratically elected governments earlier this year.
However the army has continued to play a powerful background role in politics, especially in relation to Afghan policy and in dealings with India.
Gen Kayani was in charge at a time when relations with the US became increasingly strained - firstly over the killing of Osama Bin Laden in May 2011 and later that year over the accidental killing of 24 Pakistani troops at two checkpoints on the Afghan border by US airstrikes.
The deaths led to a Pakistani blockade of Nato convoys into and out of Afghanistan that lasted for seven months.