Australia PM Abbott aims to end Indonesia spying row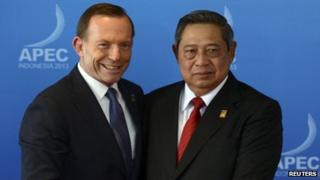 The Australian prime minister has proposed closer discussions with Indonesian officials in an effort to heal a rift over spying allegations.
Tony Abbott welcomed what he called a "warm statement" from the Indonesian president, but declined to commit immediately to a code of ethics.
Indonesia has suspended military co-operation with Australia over reports Canberra spied on its officials.
The row saw Jakarta recall its ambassador from the Australian capital.
Reports of the spying allegations came out in Australian media from documents leaked by whistleblower Edward Snowden.
Mr Abbott said he would reflect on the latest statement made by the Indonesian President Susilo Bambang Yudhoyono, before envoys from the two countries met in coming days to work through "any outstanding issues".
Build trust
Mr Yudhoyono had earlier welcomed what he said was a commitment from the Australian prime minister that his country would not "do anything in the future that will disadvantage or disturb Indonesia".
"It was a very warm statement. It was a statement that was very positive about Australia," Mr Abbott said on Wednesday.
"I'm going to reflect on the statement over the next day or so and then we'll be responding more fully."
He suggested the two countries organise a "security round table" to build trust and said their relationship should emerge stronger after the episode.
The alleged spying took place in 2009, under the previous Australian government.
The leaked documents showed that Australian spy agencies named Mr Yudhoyono, the first lady, the vice-president and other senior ministers as targets for telephone monitoring, Australian media said.
The Indonesian president said the suspension of co-operation included operations to stop people-smuggling.
He wrote to Mr Abbott to seek an official explanation over the allegations, adding that Australia "must take concrete steps" to "repair the almost irreparable damage ".
He said Mr Abbott's reply showed Australia was committed to continuing strong relations with Indonesia, but called for a code of ethics governing relations before bilateral co-operation could resume.
The row is the latest in a series of spying allegations that have strained relations between the two allies, whose relationship include co-operation on asylum-seekers and anti-terrorism, among issues.
Earlier this month, Indonesia also expressed anger over reports that Australia's Jakarta embassy was used as part of a US-led spying network in Asia.