Two Japanese airlines to disregard China air zone rules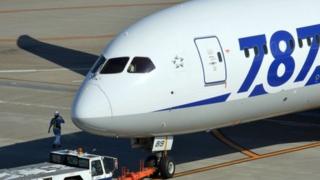 Two of Japan's biggest airlines have agreed to abide by a government request not to implement China's new air defence zone rules, officials say.
All Nippon Airlines and Japan Airlines say that they will stop filing flight plans demanded by China on routes through the zone, set up on Saturday.
Japan says that China's new air defence identification zone are "not valid at all" and should be disregarded.
Singapore Airlines and Qantas have said that they will abide by the new rules.
Disputed islands
The new zone created by China covers disputed East China Sea waters.
Both All Nippon Airlines (ANA) and Japan Airlines have been informing China's aviation authorities of flights through it since the weekend.
But the two airlines now say that they will stop doing so from Wednesday.
The zone includes disputed islands known as Senkaku in Japan and Diaoyu in China. Taiwan also claims the islands, which are controlled by Japan.
Part of the zone also overlaps with a submerged rock claimed by South Korea.
China says aircraft entering the zone must obey its rules, which include providing a flight plan, maintaining two-way radio communications and clearly identifying their nationality.
Aircraft who ignore the rules would be subject to "defensive emergency measures", China's Defence Ministry had said.
'Not valid'
Japan has condemned the establishment of the zone as illegal, with Prime Minister Shinzo Abe on Monday calling it a "dangerous" act.
On Tuesday, Japanese Transport Minister Akihiro Ota said China's zone declaration was "not valid at all" and that Japanese airlines should not follow its stipulations.
Foreign Minister Fumio Kishida said officials would be keeping communications open with airlines.
"I believe it is important for the public and private sectors to co-operate in showing China our firm resolve," he said.
Singapore Airlines and Australia's Qantas, as well as civil aviation officials from Hong Kong, Taiwan and South Korea said on Monday they would be informing Chinese officials of flights, Reuters news agency reported.
China's move has drawn criticism from several nations, including South Korea which claims a rock in the area.
"I'd like to say once again that we have unchanging territorial control over Ieodo," Defence Ministry spokesman Kim Min-seok said on Monday.
Meanwhile, Australia summoned the Chinese ambassador on Tuesday to express opposition over the zone.
"The timing and the manner of China's announcement are unhelpful in light of current regional tensions, and will not contribute to regional stability," Foreign Minister Julie Bishop said in a statement.
"Australia has made clear its opposition to any coercive or unilateral actions to change the status quo in the East China Sea."
The US has also hit out at the move, with Defence Secretary Chuck Hagel calling it a "destabilising attempt to alter the status quo in the region".
China says the zone is aimed at defending its sovereignty.