Malaysia summons Singapore envoy amid spying claims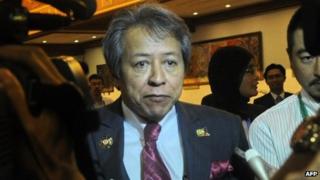 Malaysia has summoned Singapore's envoy over reports that Singapore assisted in US spying across Asia.
Singapore and South Korea helped the US and Australia intercept communications across Asia, media reports citing leaked documents said.
Indonesia and Malaysia had been targets for decades, Australia's Sydney Morning Herald added.
Reports of the spying allegations came out from documents leaked by US whistleblower Edward Snowden.
"It cannot be overemphasised that spying against a good friend and neighbour is unacceptable," Malaysian Foreign Minister Anifah Aman said in a statement.
Malaysia was "extremely concerned" over the allegations, he added.
Singaporean High Commissioner Ong Keng Yong confirmed to reporters that he had been summoned to Malaysia's foreign ministry on Tuesday.
Intelligence collaboration
The Sydney Morning Herald (SMH) reported on Monday that Singapore and South Korea were helping the US tap high speed undersea fibre optic cables.
It cited a map apparently leaked by Mr Snowden and published by Dutch newspaper NRC Handelsblad, which appeared to identify a network where underwater telecommunications links were being incepted.
Singapore was listed as one of the locations where information could be accessed.
Australia and Singapore had collaborated on gathering intelligence on Indonesia and Malaysia since the 1970s, SMH added.
There was no immediate comment from the Singaporean government.
Malaysian officials have already sent letters of protest to the US and Australia, but Singapore is a traditional rival, the BBC's Jennifer Pak reports from Kuala Lumpur.
Although Malaysia has improved relations with Singapore in recent years, this latest allegation will put pressure on Prime Minister Najib Razak to send a stronger signal that Malaysia will not tolerate any spying from its neighbours, our correspondent adds.
It is the latest in a series of spying allegations to hit the region.
Indonesia halted military co-operation with Australia and downgraded ties after reports said that Australia spied on the phone calls of President Susilo Bambang Yudhoyono.
Earlier this month, the Malaysian government also summoned US and Australian envoys in Kuala Lumpur over allegations of a US-led spying network in Asia.
The allegations came from leaked US National Security Agency documents provided by former NSA employee Edward Snowden.
Mr Snowden has been granted temporary asylum in Russia and is wanted in the US in connection with the unauthorised disclosures.