Pakistan tribal elders in talks to free polio workers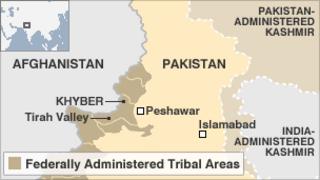 Tribal elders in Pakistan's north-western Khyber region are reportedly negotiating with suspected militants to release kidnapped polio workers.
The workers, said to be four teachers involved in a polio vaccination scheme for schoolchildren, were taken from a school in the Bara area.
Polio vaccination workers are often targeted for kidnap by militants, accused of being Western spies or part of a plot to sterilise Muslims.
Polio remains endemic in Pakistan.
This is partly due to militant resistance to polio vaccination campaigns, say correspondents.
A senior government official in Bara told the AFP news agency that the group behind the kidnappings was Lashkar-e-Islam.
"Tribal jirga has started negotiations with Lashkar-e-Islam people," the official said. "We are hopeful for the early release of polio workers."