Pundits divided on Afghan-US security pact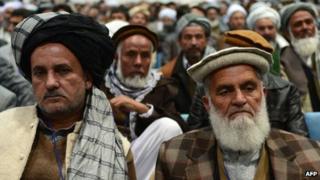 Afghanistan's state media have been working hard to promote the proposed security pact with the US in the run-up to the elders' meeting, or Loya Jirga. But President Hamid Karzai's tough talk with the US about Afghanistan's sovereignty has also given ammunition to critics of the deal.
Some opponents have rallied around religious and cultural issues. They are particularly uncomfortable about the idea of American night raids on Afghan homes.
Others believe along with Mr Karzai that this is a deal ultimately needed for Afghanistan's protection, in spite of any flaws in the details.
The Loya Jirga cannot give final approval to the agreement, which is up to parliament, but it can advise against certain clauses.
'Against Islam'
Pundits, some of whom are Jirga members, have been giving their views on Afghan TV channels.
Hamidollah Hotak, a representative of Afghan refugees based in Pakistan's Baluchistan Province, says Afghans would oppose "any foreign soldier at any cost" who might try to search houses without coordinating with the Afghan government. "All Afghan people are unhappy about this, and we will raise our voices at the Jirga to say that we will only accept a pact that serves the interests of Afghanistan and Afghan tribes," he told Tolo TV.
The issue of immunity for American soldiers who commit crimes is counter to Islam, according to Ayatollah Salehi, deputy head of the Shia Scholars Council of Afghanistan. "Judicial immunity is against our independence, national sovereignty, against the will of the Afghan people and explicitly in contravention of Islam," he told Tamadon TV, a private station which has become a mouthpiece for opponents of the pact.
'Dire need' for security
But Abdol Khaleq Hossaini Pashayi, spokesman for the Loya Jirga organizing commission, says critics are misinformed. "They have a fake document that says Americans can enter Afghan homes at night, while the actual document does not say this. It is in fact a fake document and the work of a number of internal and foreign circles who are trying to sabotage the Jirga," he told Channel One TV.
Political commentator Rahil Formuli agrees that there are "some circles in Afghanistan who are trying one way or another to create obstacles" to the US-Afghan agreement.
Another commentator, Ghafur Jawed, says people should trust President Karzai to promote Afghanistan's interests. "President Hamid Karzai made it clear in his speech today to what extent he is making efforts to take advantage of this pact to favour Afghanistan and to convince the Americans and the international community to respect Afghanistan's national interest, law, territorial integrity and sovereignty," he told Tolo TV.
But another pundit, disqualified presidential candidate Hashmat Ghani Ahmadzai, thought the president was focusing on his own political survival. "This was the first time Mr Karzai has campaigned in favour of the pact," he said, adding, "If Mr Karzai had campaigned six months ago it would have been resolved today."
Another member of the Jirga, Perwez Kawa, says Mr Karzai made a convincing case for the "dire need" to sign the pact. "The president focused on the point that we need such a pact and that the nation's representatives can decide on this. I think that the president's remarks will lead the Jirga down the right path instead of diverting public opinion to a negative path."
Prominent political analyst Ahmad Sayedi questions whether the Jirga has any role beyond giving the impression of consensus. "It makes no difference if the Jirga opposes the security pact or not. The Afghan government has agreed to the pact, and the final decision will be made by parliament. Any decision made by the Jirga is not binding, which implies that its decision does not matter."
BBC Monitoring reports and analyses news from TV, radio, web and print media around the world. For more reports from BBC Monitoring, click here. You can follow BBC Monitoring on Twitter and Facebook.