Jayant Patel: Suspended sentence for US surgeon in Australia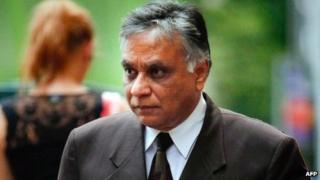 An Australian court has given US surgeon Jayant Patel a two-year suspended sentence after he pleaded guilty to four fraud charges.
Patel admitted charges of obtaining his registration and employment through dishonest means last Friday.
The ruling means that Patel is free to return to the US.
Last week, prosecutors announced they would abandon outstanding criminal negligence charges, saying it was not in the public interest to pursue them.
The sentencing puts an end to a long-running and high profile series of cases Patel has faced.
The 63-year-old Indian-born American worked at a hospital in Queensland between 2003 and 2005.
But there were complaints from hospital staff that he had botched operations, misdiagnosed patients and used sloppy surgical techniques.
He resigned from his post and left for the US in 2005, but was arrested and extradited to Australia in 2008 to stand trial.
Patel spent two-and-a-half years in jail after being convicted in 2010 in connection with the deaths of three patients and causing grievous bodily harm to another.
In 2012, the High Court of Australia threw out his convictions after Patel appealed.
Prosecutors, however, pushed for a retrial, and the four cases were then tried separately. Patel was acquitted in one case and the jury failed to reach a verdict in another.
Last week, prosecutors announced they would not pursue the two other criminal negligence charges against Patel, citing the "substantial cost of very complex litigation".
They also dropped other fraud charges after Patel pleaded guilty to four charges of fraud in connection with his employment.
On Thursday, a judge in the Queensland State district court was quoted by local media as saying the verdicts were not an endorsement of Patel's competence as a surgeon.
Judge Terence Martin told Patel he "calculatedly deceived" his way into a position at the hospital, the Australian Broadcasting Corporation reports.
In sentencing, the court took into consideration the time Patel had spent in jail.
"It has been a long and difficult journey and I'm pleased that it is over. I'll be going back to my life and my work," Patel told reporters after the court decision.