Afghan-US security deal hits fresh impasse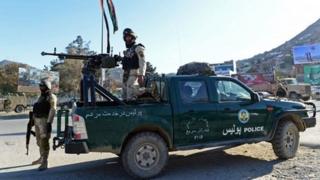 US and Afghan officials are giving conflicting reports of a compromise designed to save a future security deal.
On Tuesday, Afghan officials said the US had offered to send a letter admitting past American mistakes.
However, US National Security Adviser Susan Rice later said no such letter existed.
The Afghan side wanted the letter in return for a deal that allows US troops forcibly to enter Afghan homes.
The BBC's David Loyn in Kabul says behind the scenes there is considerable US disquiet at Afghan negotiating tactics only 24 hours ahead of a meeting of Afghan elders, a Loya Jirga, to consider the deal.
There is now an increasing probability that rather than the Loya Jirga saying yes or no to an agreed text, it could end up agreeing a deal on terms that the US will not accept - leaving the US with no option but to pull its troops out of Afghanistan, our correspondent adds.
On Tuesday night, President Hamid Karzai's spokesman said US Secretary of State John Kerry had offered to send a letter admitting past mistakes, and explaining why in certain circumstances, US military personnel should be able to force their way into Afghan homes.
President Karzai is said to have responded that if the letter was sent by US President Barack Obama himself, then there would be a deal.
But speaking later in Washington, US National Security Adviser Susan Rice told CNN: "There is no need for the United States to apologise to Afghanistan - quite the contrary."
"We have sacrificed and supported them in their democratic progress and in tackling the insurgency and al-Qaeda," she said.
She added that no letter of apology "has been drafted or delivered. That is not on the table".
The Loya Jirga - of up to 3,000 Afghan elders - convenes on Thursday.
The US government had ideally wanted this deal signed months ago, so that US forces could plan for the period after combat operations end in 2014.
But there are still hurdles ahead, including a disagreement over who has jurisdiction for any crimes committed by US forces remaining in Afghanistan after 2014.
While State Department spokeswoman Jen Psaki said the two sides continued to make progress, she added: "We're not there yet."
Earlier this week a spokesman for the Afghan President Hamid Karzai told the BBC that there was no flexibility possible in the stand taken by his government over US forces entering Afghan homes and mosques.
He said President Karzai felt very strongly about this, and would not accept any agreement that would allow US forces to enter Afghan homes for what he called "the purpose of aggression".
President Karzai and other Afghan leaders have long maintained opposition to US raids on Afghan homes - a highly sensitive issue throughout the country.
Night raids are particularly offensive because they are perceived as violating the sanctity of women in the house.
The US has insisted that such powers are necessary to prevent terrorist attacks coming from Afghanistan.
Mr Kerry's intervention comes after the commander of the US forces in Afghanistan, General Joseph Dunford, reportedly offered to modify the wording of the agreement to say that US troops would only enter homes "on extraordinary occasions". The New York Times said that offer was rejected by Mr Karzai.
In October Mr Kerry held talks with President Karzai, after which he said they had resolved disagreements over security, although some differences remained.
While the exact terms of what was agreed at those talks were not revealed, Mr Karzai appeared to have secured US agreement not to carry out attacks on Afghan soil without first consulting the Afghan authorities.
But other issues - like the legal jurisdiction over US forces - still clearly need to be discussed.
One of the Loya Jirga's organisers, Hakimullah Mujahed, told the Associated Press that trials of foreign soldiers accused of killing innocent Afghans or committing crimes against Afghanistan should be held in an Afghan court.
The failure to resolve this issue in Iraq led to a total withdrawal of US forces.