Thailand Constitutional Court rejects Senate amendments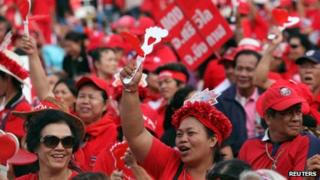 A Thai court has ruled that government plans to amend the constitution are illegal, and rejected an opposition request to dissolve the ruling party.
The Constitutional Court rejected proposals from the ruling Pheu Thai party to make the Senate fully elected.
It also rejected an opposition petition to dissolve Pheu Thai.
Thailand remains politically divided following a 2006 coup which ousted former Prime Minister Thaksin Shinawatra.
Pheu Thai had proposed constitutional amendments that would enlarge the Senate and bring it back to its structure before the 2006 coup.
A new constitution introduced under military rule in 2007 had made around half the Senate seats appointed positions, rather than directly elected roles.
Lawmakers from the ruling Pheu Thai party see the constitution as undemocratic because it was created after the coup. Pheu Thai is led by current Prime Minister Yingluck Shinawatra, who is Mr Thaksin's sister.
However, Mr Thaksin's opponents see the 2007 constitution as a vital check against his influence, analysts say.
The opposition, which has been leading big street demonstrations against the government for the past three weeks, had argued the amendments were unconstitutional, and that the government should be dissolved.
Polarising figure
"The judges dismissed the petition to dissolve the political parties," a Constitutional Court judge said, reading the court ruling.
A majority of the court's judges also ruled against the government's proposals to enlarge the Senate, describing it as incompatible with the constitution.
Security was tight outside the court on Wednesday, while around 20,000 supporters of Mr Thaksin gathered in the capital in a show of support for the government, AFP news agency reported.
Court rulings play an important role in Thailand's politics.
Two former Thaksin-linked prime ministers, Samak Sundaravej and Somchai Wongsawat, were forced from office in 2008 following Constitutional Court rulings.
Mr Thaksin is a deeply polarising figure in Thai politics.
He drew huge support from Thailand's rural poor but strong opposition from other sectors in society.
Political tensions were also raised earlier this month when Pheu Thai tried to introduce a controversial amnesty bill that applied to offences committed during the political turmoil after Mr Thaksin was ousted.
The government said the legislation was a necessary step towards reconciliation, but critics said it could allow the return of Mr Thaksin, who has been in self-imposed exile since his conviction on corruption charges in 2008. Mr Thaksin argues that the charges are politically motivated.
Tens of thousands of protesters marched against the bill, which was rejected by the Senate on 12 November.
The government said it would respect the Senate's decision.