Afghanistan attack: Suicide bombing near Kabul compound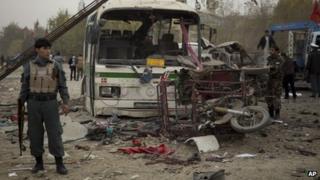 At least 10 people have been killed and more than 20 injured in a suicide bomb attack in the Afghan capital, Kabul.
The bomb went off near a compound where tribal elders are expected to gather next week to discuss a security pact with the US.
The Taliban have told the BBC they carried out the attack.
The security pact governs the status of US military personnel staying in Afghanistan beyond the withdrawal of most international forces in 2014.
It will be discussed next week by Afghanistan's Loya Jirga, the traditional council of elders.
Immunity
Those killed in Saturday's attack include a police officer. Many of the other casualties appear to have been civilians.
Police say the attacker crashed a vehicle filled with explosives into an Afghan army vehicle when soldiers identified it as a threat and opened fire.
The blast occurred less than 100m from a large tent where more than 2,000 prominent Afghans will gather on Thursday to debate the security pact with the US.
The security agreement must be approved by the Loya Jirga and parliament before it can come into force.
Among other issues, the pact covers the key issue of whether US military personnel will enjoy immunity from prosecution in Afghanistan.
Hours before the blast, Afghan President Hamid Karzai said negotiators had completed a draft of the accord, the Associated Press news agency reports. But he added that there were "still some differences".
The president also called on the Taliban to attend the Loya Jirga.
"We invite them, please come to this national Jirga of Afghanistan, raise your voice, raise your objection."
Between 5,000 and 10,000 US military personnel are due to remain in the country beyond the end of 2014, when most of the Nato-led international force is due to have left Afghanistan.
The US is expected to focus on training and mentoring Afghan security forces as well as combating al-Qaeda.