Australia ends prosecution of US surgeon Jayant Patel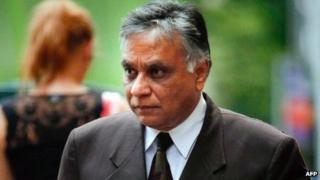 Australian prosecutors have dropped criminal negligence charges against a US doctor jailed in 2010.
Prosecutor Tony Moynihan said in a statement that it was "not in the public interest" to pursue charges against surgeon Jayant Patel.
Patel was convicted in connection with the deaths of three patients whom he operated on in Queensland, but successfully appealed.
He pleaded guilty to four charges of fraud on Friday.
The decision to drop criminal negligence charges against Patel ends a long-running high-profile case.
'Complex litigation'
The 63-year-old Indian-born American worked at a hospital in Queensland between 2003 and 2005.
But there were complaints from hospital staff that he had botched operations, misdiagnosed patients and used sloppy surgical techniques.
He was arrested in the US in 2008 and extradited to Australia to stand trial.
Patel was jailed for seven years in 2010 after being convicted of criminal negligence leading to the deaths of three patients. He was also found guilty of causing harm to another patient.
But in 2012, Australia's highest court quashed the convictions on appeal and retrials were ordered. He was subsequently acquitted in one case and the jury failed to reach a decision in another.
"I have had to decide whether Jayant Patel should face a fourth trial for allegedly causing death or grievous bodily harm through criminal negligence," said Mr Moynihan, director of public prosecutions.
"In all the circumstances, including those above, I have decided that it is not in the public interest to continue the counts alleging criminal negligence against Jayant Patel."
Mr Moynihan said the "substantial cost of very complex litigation" had been factored in.
Patel has served more than two years in jail.
The four charges of fraud relate to obtaining his registration and employment through dishonest means. He is to be sentenced next week.
Patel's lawyer said the doctor hoped to return to the US soon, but would have to wait until his sentencing.