China's Philippine aid controversy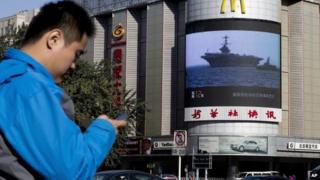 China has said it is sending $1.6m (£1m) to the Philippines to help with the aid effort following Typhoon Haiyan.
Beijing had been criticised for its initial pledge of $100,000 - a fraction of that committed by other major nations.
The offering from the world's second-largest economy, which came with another $100,000 from the Chinese Red Cross, prompted cries of protest from analysts and media in the West.
The Reuters news agency called it "relatively paltry"; Time Magazine described it as "measly" and "insulting".
True, China's initial donation paled beside the $20m given by the United States or the $10m pledged by Japan - or even the $2m donated by Indonesia.
But for all the global criticism, it didn't attract much attention at home. Most Beijing residents questioned about it said they hadn't heard about it and of those that had, only one thought the amount too small.
"It doesn't matter how much the donation is," one woman said, "it's the thought that counts."
"It's not too little," another man told me, "because we'll probably help with the reconstruction as well later on."
The Chinese government hinted early on that there might be more money in the pipeline. But even its new pledge of $1.6m is dwarfed by the contributions of Australia, New Zealand, South Korea and others.
And it stands in sharp contrast to China's other recent donations: over $10m for Japan in the wake of its tsunami two years ago and almost $40m for countries affected by the 2004 Asian tsunami.
'Politics and charity'
So why is China apparently more reticent about giving aid to the Philippines?
Part of it springs from the awkward politics of China's rise. Both countries are locked in a territorial dispute over islands in the South China Sea, which has worsened over the past year.
State media here has recently expended a lot of energy presenting the Philippines as hostile to Beijing, so China's aid to Manila has put nationalist newspapers here in the unusual position of guiding public opinion towards sympathy for the Philippines.
On the streets of Beijing, many seemed to understand the division between aid and politics.
"Personally I don't like the Philippines," one man told me, "we don't have a good relationship with them. But it's not about our relationship with the government, we only need to help the people."
"Politics and charity are two separate things," agreed another. "When we have problems, other countries help us, so we'll help them."
Comments on social media have been much more forceful. One netizen called China's donation "disgraceful[ly]" small, but many more say they are angry that their government is giving any money to the Philippine victims at all.
China's latest pledge of $1.6m still looks pointedly small besides its previous aid packages to other nations - even to Japan, with whom it is also squabbling over territory.
The foreign ministry has dropped into press briefings the observation that China, too, was a victim of Typhoon Haiyan. But with 10 dead and an estimated $734m of damage, China's loss does not diminish the impact of its message to Manila.