Q&A: Disaster management and aid after Typhoon Haiyan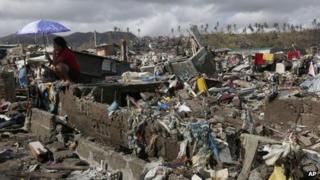 Typhoon Haiyan, which swept through the central Philippines on Friday, was one of the strongest recorded storms ever to make landfall. At least 2,200 people were killed and the UN estimates some 11 million people were affected. But there have been complaints that aid is taking too long to reach survivors.
How do disaster management and aid agencies plan ahead of disasters?
The United Nations and major aid agencies have regional offices around the world which co-ordinate preparations for a disaster. "We're designed to be on standby in countries where it's likely to hit," Greg Barrow, a spokesman for the United Nations World Food Programme (WFP), told the BBC.
Immediately after a disaster, the WFP sends in emergency teams to assess what the food needs are, how supplies can best be delivered, and how long the need is likely to continue. They also need to determine how capable the affected country is of responding, and whether its infrastructure is capable of handling such large quantities of aid and has safe places to store it.
In the case of Typhoon Haiyan, the WFP has used its regional offices in Subang in Malaysia, while its relief items (high-energy biscuits, shelter, cooking equipment, medical supplies) have been brought in to the Philippines by chartered aircraft from the UN's humanitarian response depots in Dubai.
Was the Philippines government prepared for Haiyan?
Philippine communities are used to the passage of typhoons - many towns have a disaster management committee and these would have made their own preparations.
Meteorologists had predicted that Haiyan would sweep through the Philippines as a "super typhoon". The government issued major typhoon warnings, and evacuated thousands of people to shelters.
But Greg Barrow says that Haiyan "was unique in scale and impact" and "went beyond their capacity" to be fully prepared. And the risks from the accompanying storm surge were not fully appreciated.
"The preparedness was enough, but there was a disconnect with what people expected," Richard Gordon, chairman of the Philippine Red Cross, told the BBC. "People didn't know about the storm surge. The government should have said 'You're going to have big waves, tsunamis'."
Some people did not heed the evacuation warnings, and many shelters which had been considered safe were destroyed.
What are the priorities after a disaster like Haiyan?
"In situations like this, the government should take care of re-establishing lifelines - power, water, communications, and helping NGOs find where they should be," says Richard Gordon, adding that the first priority is water.
"As the Red Cross, we've been distributing water, water tanks, thousands of ready-to-eat meals, medicine, shelter, blankets, generators, and inevitably body bags. We've given out satellite phones so that people can trace the missing. The sick are being treated on the spot or evacuated to neighbouring provinces."
He says there is an attempt to create a "regularised lifestyle" for people in base camps, with clinics, food and eventually schools.
What has caused the delay in aid delivery and was it inevitable?
It is accepted by many relief agencies that there have been delays between sending resources out to the disaster zone and distributing them. The head of the UN disaster assessment team in Tacloban airport said there was a "logjam" of aid ready to go, but no way of moving it.
"It's almost all in country - either in Manila or in Cebu, but it's not here," Sebastian Rhodes Stampa told the Associated Press. "We're going to have a real challenge with logistics in terms of getting things out of here, into town, out of town, into the other areas. The reason for that essentially is that there are no trucks, the roads are all closed."
Justin Forsyth, CEO of Save the Children, told the BBC that until debris at the airport was cleared, "we face a 10-hour journey across storm-damaged land to reach people most in need".
"Some military flights have managed to land in Tacloban, which is promising, but we urgently need the airport to be cleared so it can become a 24-hour aid-flight hub."
The remoteness of many affected communities has also a been problem, with much of the relief effort focused on the overstretched and damaged Tacloban airport in Leyte province.
Security is a real concern. In some cases there has been looting, while eight people were reported killed on Wednesday when a wall collapsed as crowds stormed a rice warehouse near Tacloban.
"The delay was incredibly frustrating and in some respects unacceptable," says Greg Barrow. "It's not inevitable in all cases. But given the scale of the storm and its impact, there was little that could have been done about it."