Typhoon Haiyan: Challenges for aid agencies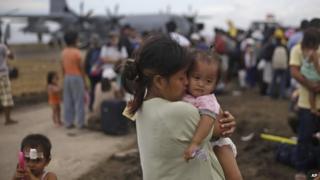 Five days after the strongest storm on record hit the Philippines; millions are still without food, water or shelter.
The need for aid couldn't be greater - as the desperate pictures coming out of the country show - including those of children with placards around their necks pleading for help.
Our priority is children and families who were lucky enough to survive the storm. They now need our help to survive the aftermath.
It is the most vulnerable, including pregnant women and children, who are most at risk.
Everybody is desperate for food and water but it is those who need it most who are likely to lose out as they aren't strong enough to fight their way to the front of the crowd for what few provisions are available.
And in devastated cities like Tacloban dead bodies still lie in the streets and the threat of disease is imminent.
As soon as we knew there was a big storm on the way our team in the Philippines started preparing. We flew a team into Tacloban to be ready to help and they are there now, responding along with the rest of our 100-strong team.
We, like other groups, are doing our best but it is tough going. The challenge we face now is how to get the aid out as quickly as possible - including to remote towns and villages - when the airport is clogged up with debris and so many roads are impassable.
Until Tacloban airport is cleared we face a 10-hour journey across storm-damaged land to reach people most in need. Some military flights have managed to land in Tacloban, which is promising, but we urgently need the airport to be cleared so it can become a 24-hour aid-flight hub.
In the coming weeks we hope to reach 500,000 people - that is our immediate task. But the bigger challenge will be in the months and years ahead.