At least three 'Taliban militants' shot dead in Karachi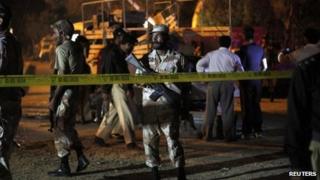 At least three suspected Taliban militants have been killed along with a member of the Pakistani security forces in a shootout in the southern city of Karachi, officials say.
The shootings began when members of the Pakistan Rangers paramilitary force carried out a raid in the city's Gulshan-i-Buner area.
In a separate raid, several militants were arrested and weapons confiscated.
The Taliban is growing in strength in Karachi, a city plagued by violence.
Thousands have died in recent years in attacks blamed on criminal gangs and militants linked to political parties.
Extortion, kidnappings for ransom and drive-by shootings are all on the rise in the commercial capital, which generates much of Pakistan's national revenue.
Routine arrests
Media reports say that an ambulance was also seized after the raids early on Wednesday morning.
It is thought that the militants may have been planning to use the vehicle to gain access to high security areas in order to carry out bombings.
The authorities say that they recovered a huge cache of weapons, including explosives, hand grenades and automatic weapons.
In September Prime Minister Nawaz Sharif said that the government would deploy the Pakistan Rangers against Karachi's criminals.
The BBC's Shahzeb Jillani in Karachi says that since this targeted operation was initiated, the Rangers have begun routinely arresting militants, carrying out raids and seizing weapons in lawless neighbourhoods of the city.
Our correspondent says that the Gulshan-e-Buner is considered a particularly lawless area which even the police usually avoid entering. It has a known Pakistan Taliban presence.
In December, a polio worker was shot dead there.
If the Rangers and police have now have managed to penetrate the area, our correspondent says, it reflects their determination to neutralise militant strongholds.
Officials said the militants were planning to attack Shia Muslims attending Ashura gatherings, held on the 10th day of Muharram (15 November), an important part of the Shia Muslim religious calendar.
In Pakistan, it is usually a tense time of the year when tens of thousands of police and soldiers are deployed to prevent possible attacks against the Shia minority.
This year, the fear of violence is greater than usual because of a possible Pakistan Taliban response to the recent killing of its chief Hakimullah Mehsud in a US drone attack on 1 November.