Philippine typhoon: Trying to help after Haiyan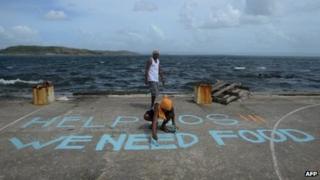 Jet Damazo-Santos was desperate for news about her sister. From her base in Jakarta, Indonesia, she tried everything she could think of to get in touch.
Her sister Mitzi Sabando, her husband and children live in the town of Palo, a few kilometres from the city of Tacloban in Leyte, one of the areas hardest hit by Typhoon Haiyan.
Ms Sabando eventually managed to contact relatives from the town hall 7km (4.5 miles) from where they lived - the only place with a mobile phone signal. The call lasted just a few minutes, but it was enough to tell her family that she was alive.
Her house was badly damaged - it used to have two storeys, now it has only one - but the family had some water, food and medicine left.
"Since my sister's house is serving as a sort of evacuation centre, we're now trying to figure out a way to send them medical supplies and other relief goods to replenish their stock," Jet Damazo-Santos said.
"But co-ordination is difficult because we're dependent on them going to the city hall in Tacloban to communicate with us. Aid workers certainly haven't reached them," she added.
'Spontaneous'
Even as attention is focused on major national and international aid efforts, stories are emerging from across the Philippines of ordinary people who are trying to help those affected by the typhoon.
Using social media and their personal community networks, they are doing what they can to help those in desperate need.
Communicating with people in the affected areas has been a problem because of the difficulty in getting mobile phone service. People have been terrified for the safety of their relatives.
The parents of Sheryl Seguido, who works as a maid in Manila, live in Ormoc city in Leyte. She said the typhoon destroyed more than 100 houses in her village, located up a mountain.
While Ms Seguido has not spoken to her parents, she has been receiving text updates from Vanessa Galola, a relative of a local official from their village, since Friday.
Ms Seguido told the BBC she sent a text message to Ms Galola, asking: ""How is my family?"
"They're fine. They're safe. But your house has been destroyed," Ms Galola replied.
Ms Seguido said a few other people she knew in Manila were asking her who they could get in touch with about their relatives from the same village in Ormoc. She recommended Ms Galola.
She said Ms Galola had been coming down the mountain every day to an area in town where there was mobile phone service. She would then pay to charge her mobile phone from a place with an electricity generator.
She has since been relaying text messages from the people in the village and their relatives outside the area, Ms Seguido says.
Other people who do not have immediate family in the affected areas are also doing their best to help out.
Jan Ralph Perez, a lawyer based in Cebu, has been sending aid to Bantayan Island in Cebu province, where the typhoon destroyed the majority of the houses, and to Ormoc.
Mr Perez said his desire to help was "spontaneous".
"Just among family and friends, I was able to raise close to 100,000 pesos ($7,500; £4,700) in a span of three days. People were very, very quick to respond," he said.
Most of the pledges he got were from family and friends in the Philippines and abroad, he said. One of his US-based friends even sent 15 boxes of bottled water - badly needed in affected areas.
Mr Perez worked with a local business organisation to distribute the supplies. He also tried to connect with other individuals planning to distribute relief supplies in other affected areas.
"There are a lot - and I mean a lot - of private individuals and small organisations that spearheaded their own relief efforts to the point of them personally bringing those goods through car or boat to the affected areas," he says.
'People are generous'
Janice Chua-Go lives in Cebu province with her husband and her two children. Her family went with a group of people on Sunday to the northern part of the province, which was badly affected by the typhoon, to distribute food and bottled water to some villages.
She said the trip was not elaborate - people just bought supplies that they could give away.
"Electrical posts were down, houses were collapsed," she said of her journey. "There were kids standing on the road begging for help."
But distribution at the villages was orderly, she said, with some local officials identifying families who needed help most.
While some people are acting alone, social media is also playing a role in a spontaneous aid effort.
Charo Limaco is based in Manila and works in the digital industry. She does not represent an organisation but has been co-ordinating relief efforts for at least three typhoons prior to Typhoon Haiyan.
She started off with sharing information online. She now uses her social media accounts to co-ordinate with friends and family on donations for areas affected by natural disasters.
"People are generous. If you make it a little easier for them to help and donate, they will," Ms Limaco said.
She deals with suppliers to buy goods in bulk. For Typhoon Haiyan, she started off with buying blankets, then proceeded to buy bottled water, underwear and medicine.
"You know what's amazing? When I post something, within 30 minutes, you get pledges right away. That's why I keep doing it also because people keep responding. I'm just really co-ordinating and really facilitating for them," she added.