Typhoon Haiyan: Fight for life in Tacloban intensifies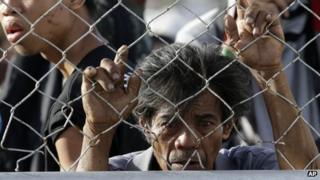 In Tacloban, the survivors are living among the dead. Driving into town we saw dozens of bodies rotting by the roadside. Three days after the typhoon struck, there was nobody to bury them. People in the streets are covering their faces with handkerchiefs to try and mask the stench.
Many are searching for loved ones who are still missing. With all phone lines down there's no way of knowing other than to go out and try and find them.
In the centre of town barely a single building is left standing. The streets reduced to a mess of twisted debris.
A wall of water hit this city. The scenes are reminiscent of the Asian Tsunami of 2004 and of Japan in 2011.
The city's battered airport is now the hub of the aid operation. But at the moment it's simply not getting here fast enough.
Airport birth
At the airport's gates, hundreds of people gathered this morning, desperate to get their hands on any aid they could.
"We are so very hungry and thirsty," one woman told me with tears in her eyes. She said she was sleeping by the roadside after her house was flattened.
Next to the airport's control tower we heard screams of pain where a makeshift hospital has been set up. Many of the injured are being treated without anaesthetics. A man in his thirties twists in agony as medics work on a huge bloody gash to his left leg.
In a room next door a woman has just given birth laid out among the debris. She tells us her newborn daughter is named Baja Joy. Born into a world upturned.
Next to her another young woman is also in labour. "Push Push," says the doctor, clasping her hand.
In what's left of the airport's terminal, hundreds of people are lining up desperate to get out of Tacloban on any plane they can.
"This is my dad's only chance for life," Peter Minoc tells me as he pushes his wheelchair-bound 86-year-old father Filamon towards a military cargo plane. "He needs dialysis and he's been off now for two days. He's in a critical condition."
With communications down, many people here are also desperate to let relatives know they are alive.
Liliane Cortez tells us she survived the typhoon by clinging to a concrete post as storm water rushed through her house. "The rain lashed on my face felt like needles," she says. Now she's desperate to let her father Norberta Balsera know that she managed to survive.
A few kilometres from the airport we run into the country's Interior Secretary Mar Roxas who hands on out in the streets directing traffic. "Go, go, go" he cries, urging the gridlocked traffic to creep through the debris.
But the devastation here is overwhelming and there's little sign so far that the government is managing to get aid out to the many in need.
So people are doing whatever they can to help themselves. In the centre of town people are clambering over the wreckage of what used to be a supermarket, carrying whatever they can.
Those who have nothing are looking for anything they can find. And unless more relief comes quickly, the little food there is will run out soon.