Philippine press shocked by Typhoon Haiyan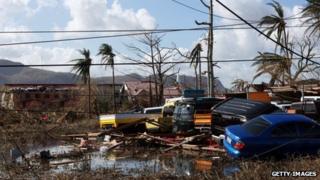 As the full devastation of Typhoon Haiyan comes to light, newspapers in the Philippines express shock and ask whether the government could have done more to prepare for the storm.
Some blame climate change for super typhoons that take "weird directions".
Editorial in the Philippine Daily Inquirer
"By all accounts, Yolanda (international code name: Haiyan) is now considered the most destructive natural calamity ever in the country's history. But as horrifying as its multiple landfalls last Friday were... the worst is yet to come: digging out the thousands of bodies from under debris and inside waterlogged homes. It would be impossible to imagine the suffering of the survivors, as they search for their missing kin and find family and friends among the many dead."
Rigoberto Tiglao in The Manila Times
"Another typhoon, this time a devastating super-typhoon that hit the country bulls-eye. Nothing new, including the absence of a comprehensive plan of action to deal with the curse of typhoons. Unless my editors tell me to stop, I'll be writing every typhoon season... in the hope that some lawmaker or group would pick up my proposal... for the enactment of a law for our nation to build the necessary infrastructure to mitigate the terrible impact of typhoons and monsoon rains on our people."
Editorial in The The Philippine Star
"The government can sustain public willingness to get out of the path of danger by improving evacuation facilities. Many people refuse to leave their homes for evacuation centres because they don't relish the prospect of staying even temporarily in crowded shelters with filthy toilets and inadequate clean water."
Federico D. Pascual Jr in The Philippine Star
"Obviously Yolanda's wrath was just too much for anyone in government to predict and prepare for on short notice. We have not grappled with anything like this before."
Editorial in the Manila Standard Today
"It is quite timely that this year's Conference of Parties to the United Nations Framework Convention on Climate Change begins on Monday, just as the world gets to grasp the actual damages brought by Yolanda, or Haiyan. Filipinos are already resilient in spirit, but only sincere and genuine governance, through sounder, stronger, tangible infrastructure, can make us less helpless against the forces of nature."
Walden Bello in the Philippine Daily Inquirer
"It seems these days that whenever Mother Nature wants to send an urgent message to humankind, it sends it via the Philippines. That it was climate change that was creating super typhoons that were taking weird directions was a message that Nature was sending not just to Filipinos but to the whole world. It is doubtful, however, that the governments assembling in Warsaw will rise to the occasion."
BBC Monitoring reports and analyses news from TV, radio, web and print media around the world. For more reports from BBC Monitoring, click here. You can follow BBC Monitoring on Twitter and Facebook.