Pakistanis react with dismay to new Taliban chief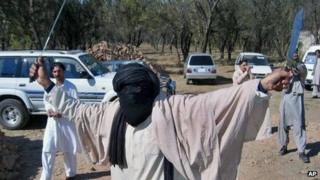 Dejection and dismay has been the reaction of many people in Pakistan to the news that Mullah Fazlullah has been made head of the Pakistani Taliban (TTP).
He is seen as a particularly ruthless commander whose men in October 2012 shot teenaged schoolgirl Malala Yousafzai in the head as she was on a bus.
The world reacted with horror to the shooting, and her subsequent medical treatment drew international media attention - as has her ceaseless campaigning for the right of girls to have an education in northern Pakistan.
But Mullah Fazlullah's notoriety does not stem entirely from this incident.
He is still remembered for his atrocities in Swat - for ransacking music shops, carrying out public executions and attempting to enforce his own version of Islamic law in addition to banning girls' education and destroying schools.
He was the pioneer of what many in Pakistan and internationally believe to be a senseless campaign against the United Nations-funded polio vaccination drive.
His elevation has also taken aback those in official Pakistani circles who had been pushing for a peace dialogue with Taliban.
He is well-known to the government. In 2009 it accepted all his conditions and enacted Sharia law in Swat but Mullah Fazlullah still refused to disarm.
Many in Pakistan believe that his appointment could trigger divisions within the faction-riddled Taliban.
Members of the Mehsud tribe in particular may not be too happy with his elevation. They form the backbone of the Pakistani Taliban and a majority of them were close to the faction led by Waliur Rehman, who was killed in a drone strike in May.
Mr Rehman's successor is Khan Said Sajna, and many analysts predict that his fighters at some point may stage a comeback and relegate Mullah Fazlullah to a secondary position.
Hostile
Mullah Fazlullah had to be evicted from Swat by a military operation that caused about three million people to leave their homes and live in refugee camps for several months.
His subsequent activities from his base in Afghanistan's north-eastern province of Nuristan have been equally hostile.
His group claimed responsibility for a number of deadly attacks against the Pakistani military and the police, including an attack in September that killed a Pakistan army general and a lieutenant-colonel in a roadside bomb attack in the north-western district of Dir, adjacent to Nuristan.
The Pakistani government has announced a $5,000 (£3,110) reward for information leading to his death or capture, which is still valid.
Power play
Despite all these exploits, is he really as big a problem for Pakistan as his two predecessors, Baitullah Mehsud and Hakimullah Mehsud?
Sources that understand the tribal dynamics in Pakistan's semi-autonomous Federally Administered Tribal Areas (Fata) believe he is not.
For them, he is a leader in exile, with no presence on Pakistani soil and no tribal power in the Waziristan region, which is the main militant sanctuary in the area and where tribal identities run stronger than ideology.
His chosen deputy, Sheikh Khalid Haqqani, is an Islamist ideologue who lives in Miranshah, the central town of North Waziristan, but he is equally bereft of local tribal identity as he comes from the Swabi district in the Peshawar valley region.
But analysts also say that the real power of the TTP is ultimately going to gravitate to the main Mehsud tribe, the natives of South Waziristan who founded the movement and who still remain its main strength.
They say that Mullah Fazlullah and Sheikh Haqqani have been chosen as the top two TTP leaders because the Mehsud tribe suffered an internal rift between the groups led by Hakimullah Mehsud, the TTP chief who was killed in a drone strike last week, and Waliur Rehman.
During years of rivalry, the Hakimullah Mehsud group lost most of the ethnic Mehsud fighters to the Waliur Rehman group because it had been too tilted towards the non-Mehsud militant groups based north of Waziristan in the Fata region.
For the moment, the Hakimullah Mehsud group seems to have won the leadership battle by preventing the Waliur Rehman group from taking over, but the arrangement is unlikely to endure.
For Pakistan, this augurs well, as Khan Said Sajna is believed to be more inclined to do business with the Pakistanis than either the late Hakimullah Mehsud or his northern ally and successor, Mullah Fazlullah.
The question is, will the Mehsuds prefer to strike a deal with the Pakistani politicians, who are still struggling to find their feet in a nascent democratic system, or with Pakistan's powerful military establishment which has monopolised the country's foreign and security policy for several decades and raised militant proxies, including elements in the TTP, to fight regional wars on its behalf?
A deal with the politicians may still remain elusive. The politicians' motive for regional peace is to promote trade with neighbouring countries such as India and Afghanistan. There is nothing in it for the fighters.
By contrast, the military establishment offers fighting opportunities in both the post-Nato Afghanistan and their arch-rival, India, long considered by Pakistan's religious hardliners as a land that needs to be conquered and proselytised.